Transit Stop Transformation Projects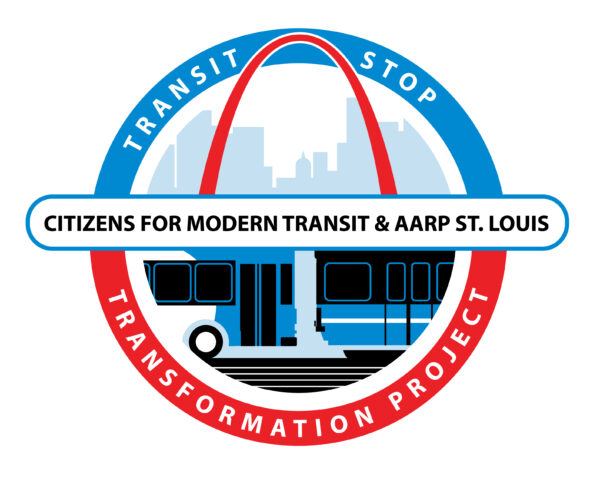 TRANSIT STOP TRANSFORMATION PROJECTS: An initiative of CMT and AARP in St. Louis
Citizens for Modern Transit (CMT), the regional transit advocacy organization, and AARP in St. Louis initiated a pilot project through its Transit Placemaking Program in 2019 to transform the bus stop in the City of Maplewood. The effort, known as the "Maplewood Transit Stop Transformation Project," converted a bus stop into a fun, artistic space that encourages active play, cultivates community, and increases transit use. The renovated, ADA accessible site boasts vibrant colors and green spaces. New shelters, a glider, and bench were installed, and lighting and better sightlines were incorporated to improve visibility, safety, and security. There is now more waiting space, better access to the adjacent green spaces, a hopscotch game that adds an interactive play element to the design, and an art installation graphically depicting Maplewood landmarks created by a local, award-winning painter and mixed media artist.
The success of this initial project sparked interest in transforming other transit stops and stations in the St. Louis region. To date, Transit Stop Transformation Projects have been completed at the Emerson Park Transit Center in East St. Louis, IL, the Belleville Transit Center in Belleville, IL, and the North Hanley Transit Center in unincorporated St. Louis County (see case studies below for more information). Plans for additional projects are currently in the works.
Would you like to see this type of transformation at your local transit Stop?
The Transit Placemaking Program is an opportunity for communities, corporations and non-profits to partner with CMT and AARP in St. Louis to transform transit stops in their neighborhood.  Sites are selected based on local government/municipal support, corporate or non-profit partners, and community engagement opportunities. Download the booklet below to learn more:
Transit Stop Transformation Projects: Impacting Communities through Transformation of Transit Stops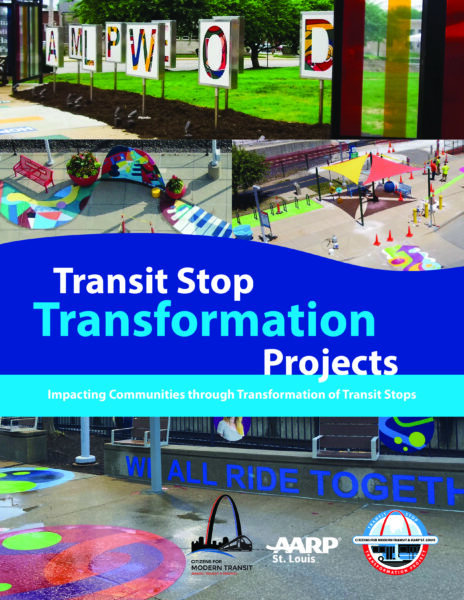 TRANSIT STOP TRANSFORMATION PROJECTS ARE PRODUCTS of PARTNERSHIPS in ACTION: 
Goals:
Work with stakeholders to build consensus and policies to
move permanent development forward
Establish a lasting development (shelter, play area, etc.) at
the bus stop to improve safety and security, build ridership
on the system and increase activity around transit
Reinforce the element of fun/community that comes with
activating space around transit and building community
Partnerships:
Local governments
Corporations
Non-profits
Community Groups
Deliverables:
Site Selection
Project Development
Community Engagement
Design and Construction
Questions? Email CMT at kcella@cmt-stl.org or call 314.231.7272.
Completed Projects:
Fifth and Missouri Transit Center
Maplewood MetroBus Stop
Emerson Park Transit Center
Belleville Transit Center
North Hanley Transit Center