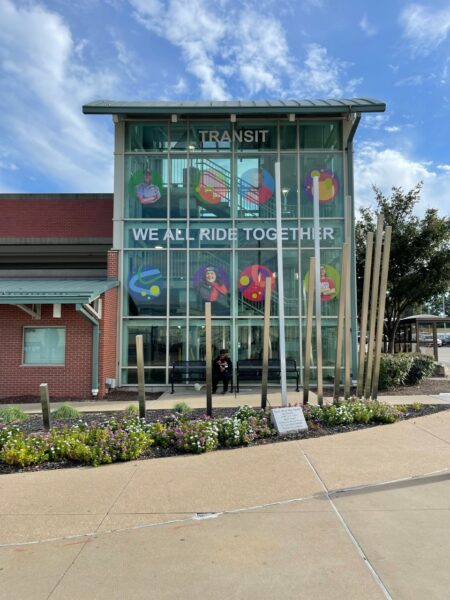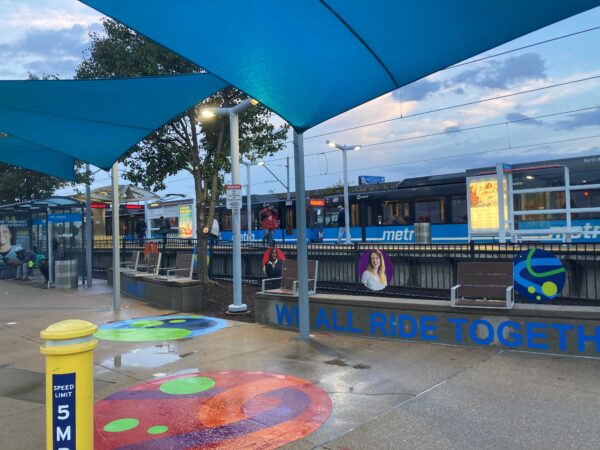 Citizens for Modern Transit (CMT), AARP in St. Louis and Metro Transit – in partnership with St. Louis REALTORS®, Employment Connection and Bywater Development Group – today unveiled the "Transit Stop Transformation" Project at the North Hanley Transit Center, located at 4300 North Hanley Road. A celebration got underway with a "Wake Up to a Sweeter Commute" rider appreciation event, where volunteers gave away granola bars and discussed the impact of this new transformation with riders. Soon after, key representatives of the project and elected officials made formal remarks, cut the ribbon and invited those in attendance to explore the new space. The opening comes after a months-long process of getting input from transit riders, area residents, elected officials and stakeholders through a series of virtual design workshops, surveys and community events – and completing construction.
"Transit stops are synonymous with gray space, and when we arrived at this site, it certainly wasn't the exception," said Kimberly Cella, executive director of Citizens for Modern Transit, who helped spearhead the transformation. "Yet today, transit riders are welcomed to a colorful, inviting, interactive and vibrant space full of energy."
The project team overseeing the "Transit Stop Transformation" Project at the North Hanley Transit Center converted the concrete area between the bus bays and MetroLink entrance into an interactive, playful and engaging space, boasting a vibrant-colored "Transit: We All Ride Together" theme. The revitalized space features shade structures, seating, musical elements, ground murals and window designs. The project reflects the diverse group of riders who utilize this significant MetroLink and MetroBus connection point in unincorporated St. Louis County. It serves as an extension to the ongoing efforts made by the partners to raise awareness about placemaking around transit, which is a concept that transforms places people simply pass through in route to their next destination – like MetroLink and MetroBus Transit Centers – into active, engaging corridors that connect individuals and neighborhoods by offering access to products, services, activities and green space.
The "Transit Stop Transformation" Project at the North Hanley Transit Center was led by Citizens for Modern Transit, AARP in St. Louis and Metro Transit. The Dallas- based urban planning firm Team Better Block completed the planning and design, while Added Dimension, LLC, oversaw community engagement. The artwork was created by Design Lab 443. Other contractors and vendors involved in the project included Lake Contracting, Inc., Shade-Guard, Stash Design, Warning Lites of Southern Illinois, LLC, and Weiss Monument Works. This project was funded by Citizens for Modern Transit's Placemaking Pilot Funds Program, AARP in St. Louis, St. Louis REALTORS® and Bywater Development/Employment Connections.
"Engaging in livable community transformation projects allows AARP to influence the improvements made to ensure they are suitable for people of all ages," said Sheila Holm, community outreach director for AARP St. Louis. "Adding improvements such as shade, seating and interactive elements to transit stops create a more comfortable and enjoyable experience for all who use public transit, especially those over 50."
The North Hanley Transit Center "Transit Stop Transformation" project is the fourth of its kind in the St. Louis region. Transformations were also completed at the Belleville Transit Center in Belleville, Ill., in June 2022, the Emerson Park Transit Center in East St. Louis, Ill., in August 2021 and at a MetroBus stop in Maplewood, Mo., in June 2020. Each project showcases a deep understanding of and commitment to equitable development around transit, the possibility of play, the ability for creative interventions to produce long-term impact for residents of all ages and the need for collaboration to succeed. The partners work with stakeholders to build consensus and policies to move permanent development forward – and ultimately establish lasting developments at transit stops that are helping to improve safety and security, build ridership and increase activity around transit. Each project also reinforces the element of fun that comes with activating space and will be maintained via partner commitments to ensure sustainability for years to come.
"This colorful new space will bring smiles to the faces of transit customers of all ages who utilize this transit center and it will make our transit community a little brighter," said Taulby Roach, President and CEO of Bi-State Development.
The site of the fifth "Transit Stop Transformation" was recently announced. It will be at the 5th & Missouri Transit Center in East St. Louis, Ill. Community engagement will get underway late this fall.
To view the full Transit Transformation on North Hanley, click here.