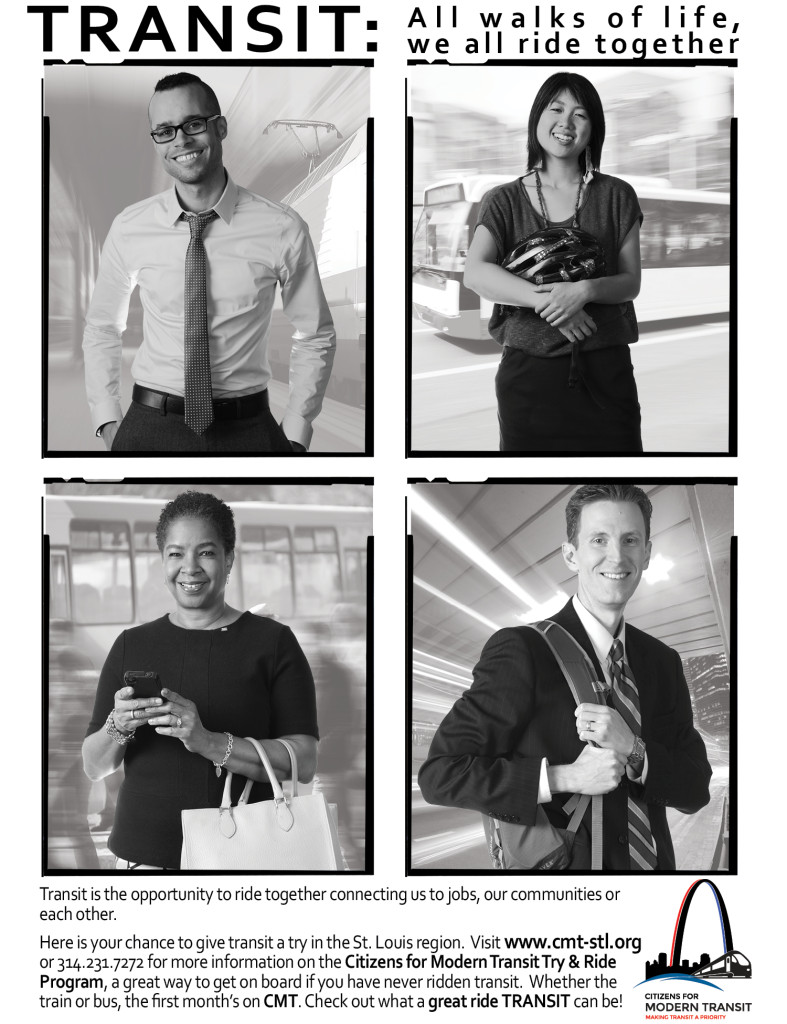 As we wrap up 2014 at Citizens for Modern Transit, we can't help but highlight some of the transit successes this year. While there was no groundbreaking or construction, transit is on the move nationally and in the St. Louis region.   Nationally, more than $81.5 billion in projects were planned or under construction including Bus Rapid Transit (BRT), light rail and streetcars. These investments included 25 light rail projects and 16 streetcar projects.   (http://www.thetransportpolitic.com/2014/01/05/openings-and-construction-starts-planned-for-2014/).
This is even more impressive in light of the fact the Highway Trust Fund is near insolvency. Cities and states across the country are finding creative financing alternatives, public/private partnerships and other funding mechanisms to ensure transit moves forward. Our neighbors in Kansas City, MO have a streetcar project under construction with the help of a Transportation Development District and a TIGER grant.  Its opening is planned for 2015.
Where are we in St. Louis?
No dirt was moved in 2014 to begin a transit project, however the region was awarded a $10.3 million grant to build a new light rail station along the existing alignment between the Central West End and the Grand MetroLink Stations in the Cortex district.   The new station would be the first addition to light rail since the opening of the Cross County in 2006. CMT played an integral role in this process having completed the necessary Feasibility Study in 2014 to make this award a reality.
In addition, CMT launched the Try & Ride program in St. Louis, a transit enticement program for new riders, placing more than 1,200 riders on the system in less than 8 months.   Each rider committed to use transit for a two month period of time for the work commute. Program results indicate more than 70 percent will stay with transit after the 'test ride" period.
The Loop Trolley project is moving forward and is estimated to be open by fall, 2016.
CMT has also developed more programming and tools for building around our transit system, including the CMT Metro Market program, pop up 'markets' at stations allowing residents to see the possibilities around transit; the passage of zoning around the Rock Road Station for TOD; and an RFP for development around the Belleville MetroLink Station.
Programs CMT continues include its national speaker series to inform policymakers and residents about how to best leverage the system, its Ten Toe Express program that has introduced more than 7,000 seniors to transit, the Guaranteed Ride Home program providing a quick ride home in the case of emergency for transit commuters, and more!  CMT's constituent base of transit users and supporters has grown to more than 20,000 individuals, companies and organizations interested in moving transit forward in the region.
Where does that leave transit in St. Louis and where do we go from here?
The ever looming question of financing hangs over the St. Louis region and Missouri.   St. Louis County voters successfully passed Proposition A, 1/2 cent general sales tax in 2010 for transit, which also triggered the 1/4 cent sales tax passed in the City of St. Louis in 1997 to begin collections.  These initiatives generate about $78 million locally for transit operations and capital (65 percent of the County's Prop. A revenues are used for operations) .  This is not enough.
CMT considers identifying a funding source for transit 'job one' in 2015. In November, CMT commissioned a study to provide potential funding strategies for transit expansion in the St. Louis region. The organization is partnering with Transportation for America to conduct the six-month study which will assess current fiscal capacity for transit expansion and operation, analyze the best practices of funding strategies nationwide, examine potential changes to state constitutional language or statutes to create additional funding sources for public transportation, develop a revenue model to project receipts from different sources and develop a menu of possible funding strategies based on the analysis and findings for local consideration.
The region has explored several corridors for transit expansion and service innovation.  Each have been reviewed extensively by the region's transportation planning organization.  These corridors include the Northside/Southside and Daniel Boone light rail projects and the St. Louis Streetcar project.  However, the overall lack of funds has prevented any large-scale capital public transit project from moving forward. By commissioning this study, CMT will be able to build the case for and develop, a long-term, sustainable plan for public transit financing. There is a significant hole in funding sources when state funding is examined. While Illinois provides millions in funding to the St. Clair County Transit District for transit on the Illinois side of this region, Metro received little more than $400,000 last year from the State of Missouri for transit operations.   Without a state funding source, Metro and the State of Missouri are at a significant disadvantage to compete for federal dollars.
While these funding discussions continue, the St. Louis region needs to come to a consensus on the region's transit priorities if funding actually does become available.  Right now, we have a list of 'illustrative' projects, but what project tops the list? Which of the options should be prioritized for the region? Where should resources go if funding for public transit infrastructure becomes available?  CMT's "job one" is to find a funding mechanism which works for this region and to build much needed support to ensure transit connects us to our communities and each other.
And Here's What You Can Do in 2015
As we head into 2015, CMT will be focusing its efforts on these two fronts – funding and prioritization of transit projects for the region. We will continue to keep our members and friends updated and advocate for the best possible options.  In the meantime, you can:
Contact your local and state elected officials about the importance of transit and how transit projects can and will move this region forward.  Use CMT's talking points and legislative priorities to help craft your message.
We are honored to partner with you to improve the St. Louis Region with transit and wish you a Safe and Happy New Year!