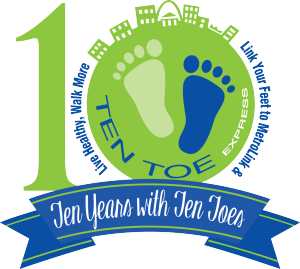 The Ten Toe Express website has been down for the past week + due to some technical difficulties with the server that hosts it. We're doing our best to get it back online ASAP! In the meantime, please feel free to contact your respective walking group leaders, or contact Lisa Cagle, Ten Toe Express Program Director via phone (314-231-7272) or email (lcagle@cmt-stl.org) if you have any questions or concerns.
If you need the most up-to-date walk schedule or contact info for walk leaders, you can find that here: Updated Walk Schedule Spring 2016
UPDATE TO SCHEDULE: Rock Road Group

| | |
| --- | --- |
| 8-May | Mother's Day – No Walk |
| 15-May | Gateway Arch (Robin Dees) |
| 22-May | Washington University (Shirley Fitzpatrick) |
| 29-May | Airport (Marcieta D. Reed) |
| 5-Jun | TBD (Marla Smith) |
| 12-Jun | TBD (Deborah Tyler) |
| 19-Jun | Downtown Ferguson (Shelley Fitzpatrick) |
| 26-Jun | Ruth Porter Mall (Becky Reinhart) |
If you are looking for a walking map, check at one of the links below.
Thanks for your patience as we try to work out this issue.
SIGN UP FOR SPRING 2016 TEN TOE EXPRESS HERE
REGISTER FOR SPECIAL WALKS HERE (see walk descriptions on Walk Schedule Spring 2016):
May 17 – Special Ten Toe Express Walk: Downtown Architecture and the Blues
June 4 – Zoo Scavenger Hunt with AARP and Ten Toe Express
June 18 – AARP in St. Louis Get out and Geocache on the Ten Toe Express
WALKING MAPS — Download zip file to access individual walking maps. Let us know if you have problems with this.