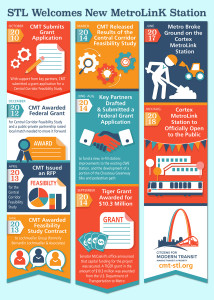 We are excited to be a part of the grand opening of the Cortex MetroLink Station and Chouteau Greenway this summer on July 31 at 10 a.m.!  This is the first MetroLink station to be built in more than a decade, and construction began last summer. This is also the first Metro Transit project to be constructed using public and private funding.
Located between the Central West End and Grand MetroLink Stations, the Cortex Station will become the light rail system's 38th MetroLink station and will provide a new, convenient transportation option for the thousands of employees and visitors in the central corridor of St. Louis where parking is at a premium.
Additionally, the first quarter-mile section of the Chouteau Greenway has been constructed just north of the Cortex Station between Boyle and Sarah Avenues. When the entire five-mile greenway is completed, it will allow individuals, groups and families to walk or ride bicycles from the Gateway Arch to Forest Park on a paved, accessible path separated from street traffic.
Representatives from the Federal Transit Administration, Cortex Innovation Community, Washington University, BJC HealthCare, Great Rivers Greenway, City of St. Louis, Citizens for Modern Transit, Metro Transit and Bi-State Development will all be present .
Time: 10 a.m.
Date: 7/31/2018
Location: 4270 Duncan Ave., St. Louis MO 63110
To find out more about how this station came to be and the roles that project partners played, check out our blog post here and view our video about it here.  We hope to see you at the grand opening!