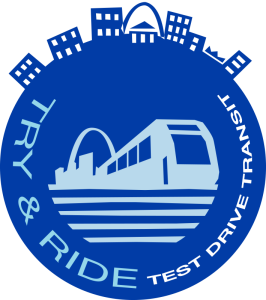 Citizens for Modern Transit's FREE Try & Ride Program Makes it  Easy for First-Time Riders to Navigate the System
With the westbound lanes of the Jefferson Barracks Bridge closed for emergency repairs and heavier volume along alternative bridges and routes, Citizens for Modern Transit is encouraging commuters to take public transit. The organization has a FREE Try & Ride program that makes it easy for those who are new to MetroLink or MetroBus.
"Some residents disregard transit as an option because they aren't familiar with the system or how to utilize it," commented Kimberly Cella, executive director of Citizens for Modern Transit. "Our Try & Ride program addresses this issue head-on. It has helped more than 6,000 individuals familiarize themselves with the region's integrated public transit system. And, the program is credited with turning many first-time transit users into regular transit commuters."
The Try & Ride program is open to any Missouri or Illinois residents who don't already utilize the St. Louis region's public transportation system for their workday commutes. Upon registering, each program participant receives personalized transit route, a month of complimentary tickets, a journal to capture stories and write down reminders, and a list of tips for using transit. Registration also enrolls them in the Guaranteed Ride Home program, which provides the user with subsidized access to ride-hailing services like Lyft, a cab ride or rental car in the case of an emergency or unexpected schedule change at work.
Cella added, "Transit is a safe, reliable means to get to work, upcoming Blues and Cardinals game, local airports and so much more. I encourage anyone who doesn't already take transit to give it a try."