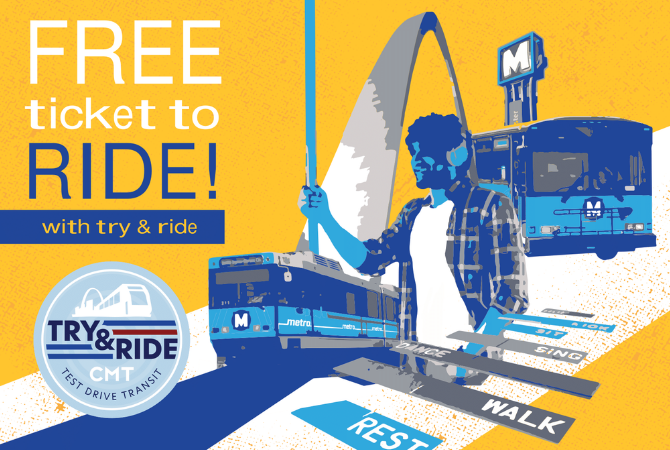 Tired of sitting in traffic?

Gas prices eating into your budget?

Not sure about using transit?
Citizens for Modern Transit's Try & Ride program helps address all of these questions and many more.
This comprehensive, award-winning program provides participants with the opportunity to try our transit system, get personalized routes, discover money-saving benefits, and more. CMT is confident that once you try transit, you'll recognize the many benefits and make transit a part of your regular commute.
The Try & Ride program will provide complimentary transit tickets for one month, giving riders time to test and learn the new system. The program requires riders to commit to utilizing the bus or train for one additional month at their own expense for a total of two months.
A Complete Solution
Personalized transit routes for your work or school commute that includes the best modern transit options via MetroBus, MetroLink or a combination of both.
Complimentary tickets for the first month for commuting.1*
Registration in the Guaranteed Ride Home Program.2
Give It a Try
Participation is complimentary — there is no fee to participate.3
Participants are asked to commit to using transit for two months for their work or school commute.4
Participants are asked to take two quick surveys.5
Rules and Regulations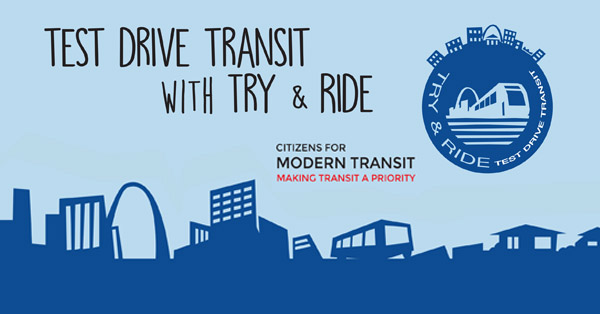 CMT reserves the right to deny any application for any reason. In addition, any incomplete applications for the CMT Try & Ride program will not be processed and will be denied. This program is only available to individuals who do not currently take transit for their work or school commutes. Limit of 4 individual registrants per household address within a 12-month period; no other registrants per house/apartment allowed during this time period. If for any reason, CMT suspects abuse of the program, all applications will be denied.
Fraudulent applications resulting in abuse of the program,  including resale of tickets, may result in civil and criminal penalties
Thank you for participating.