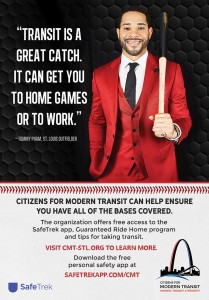 Citizens for Modern Transit today announced it is teaming up with Outfielder Tommy Pham to encourage area residents to take transit. The advertising campaign reinforces that MetroLink and MetroBus are great transportation options for home games and the work commute.
Pham is a big supporter of transit and utlizes it when he is in town and able. He is excited to help spread the word about the benefits of transit to his fans and other local residents.
"Transit is reliable and cost-effective," said Pham. "Plus, riders are able to avoid parking hassles and fees. If you haven't tried it– check it out. CMT is a great resource for you to navigate the local system."
The campaign messaging also reinforces how CMT helps ensure riders have all their bases covered before boarding the bus or train through offerings like …
Free, one-year access to the the personal safety smartphone app, SafeTrek, which enables individuals who feel unsafe while in transit to notify law enforcement officials without having to call 911 or knowing their precise locations.  Register at www.safetrekapp.com/cmt
Peace of mind knowing that those who use public transit, ride their bikes or walk to work gain access to more immediate transportation options if a personal need arises courtesy of the Guaranteed Ride Home Program.
Access to an array of tips for taking transit and giving it a try.
Be on the lookout for these advertisements around town, and be sure like and share the posts on Facebook and Twitter.