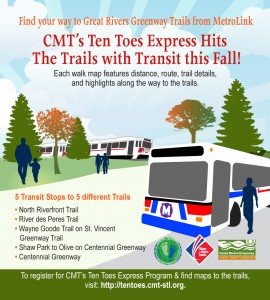 CMT is taking transit to trails.  Over the years, CMT has produced more than a hundred walking maps from MetroLink stations in the region to exciting St. Louis destinations for the Ten Toe Express, a walking program linking MetroLink and MetroBus with residents' own ten toes to explore St. Louis and step towards healthier lives!
Thanks to a grant from Great Rivers Greenway (GRG), CMT produced Ten Toe Walk maps to 5 GRG trails in the region.  These maps are free to the public and are a resource to help you navigate the region's transportation amenities and multi modal connections.
These maps will be permanently posted on the Ten Toe Express website – http://tentoes.cmt-stl.org/, and are also available individually below and in a pamphlet here.
To learn more about the Great Rivers Greenway, visit – http://www.greatriversgreenway.org/.