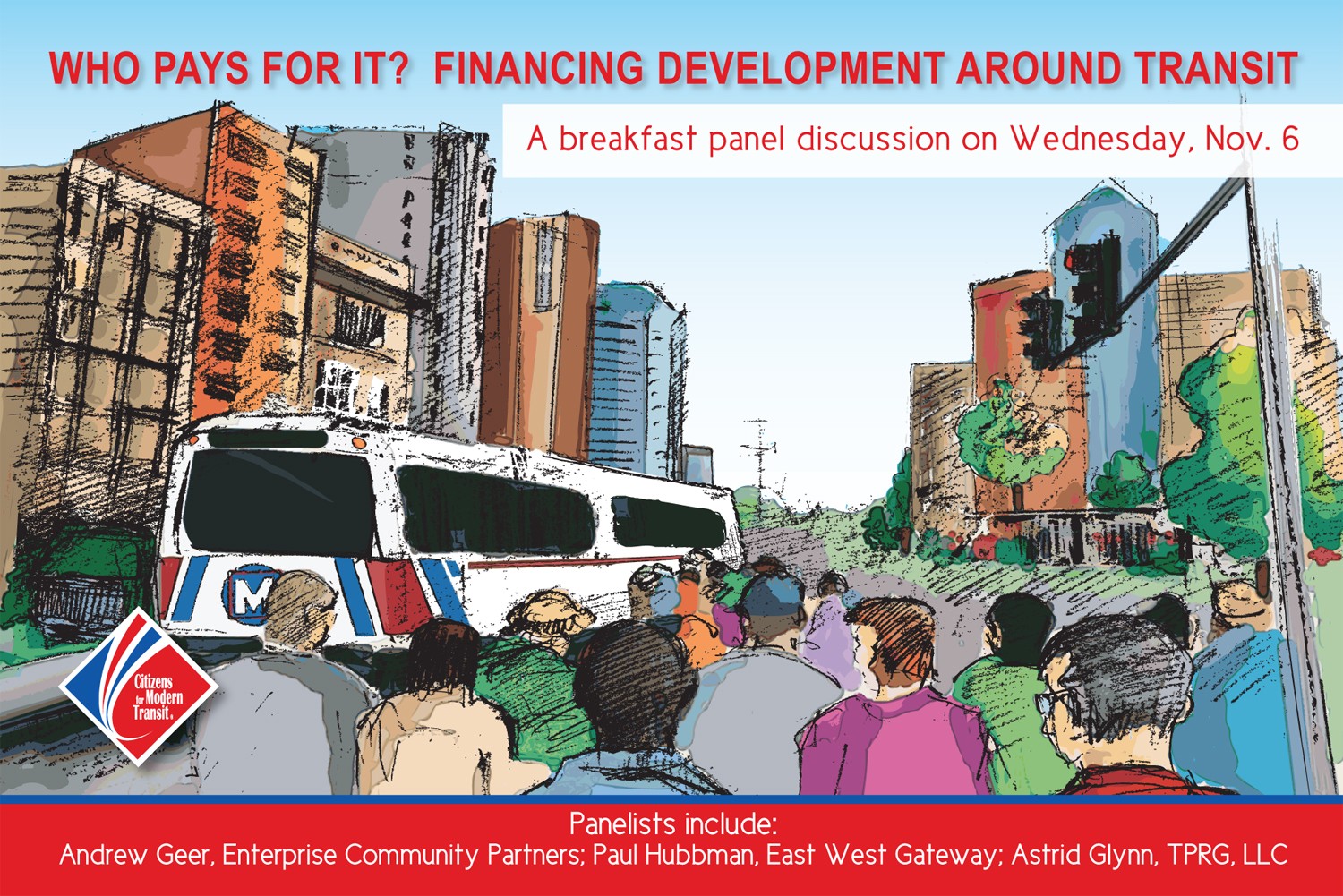 We are only one week away from the upcoming  CMT Panel Discussion on funding development around transit.    For more than two years, CMT has been beating the drum on the merits of TOD, the benefits of this type of development to the individual, the community and the state, and reasons why this region should build around light rail.
CMT thinks now is the time to take our conversation to the next step – how do we fund this type of development, how do we incentivize developers and investors here and nationally to move St. Louis forward in this arena and finally what opportunities are out there in the St.  Louis region for developers.
The panel of experts we are bringing in are going to cover just those topics and hopefully spark some interest on the part of the development community, the municipalities that might have a MetroLink station, the City of St. Louis, St. Louis County, lenders and others in moving good, right-sized development forward around transit.   Unfortunately in all our work in transit, we have not found a secret funding source,  but next week  we  will have some national experts in Astrid Glynn and Andrew Greer in St. Louis to talk about good, solid insights from other communities about 'funding' these types of developments.
Yes, it will require work, yes, it will require commitment and yes it will require time, but we have to start this process now to ensure that the St. Louis System is utilized to its best capacity.
Here is a quick sneak peek at the upcoming panel – don't forget to make your reservation today.   This is one discussion you do not want to miss in St. Louis.
Astrid Glynn has spent more than a decade in the Massachusetts Executive Office of Transportation, with charge of capital planning, transit/rail programs, and transportation planning. She also served as Deputy Secretary in the Office for Commonwealth Development and two years as Commissioner at the New York State Department of Transportation. She is now a Principal  at the Transportation Planning and Resource Group (TPRG).   Astrid is going to highlight some creative financing she has encountered through transportation work in Massachusetts, New York, and as a planning and resource consultant.
Next up will be Andrew Geer  – Andrew is vice president and Chicago market leader for Enterprise Community Partners, Inc. He focuses on identifying regional product opportunities in coordination with business line colleagues. Andrew is the lead in expanding Enterprise's programmatic presence in Chicago with a priority on advancing initiatives with local partners that will improve the livability of low-income residents in Chicago, including green design, regional sustainability goals and healthy housing for vulnerable populations.
Andrew has nearly 20 years of experience in community development and nonprofit leadership. Andrew is going to discuss insights from his work to finance a TOD project on the south side of Chicago.
Last but not least, Paul Hubbman – Paul is Senior Manager of Corridor and Long Range Planning with East West Gateway Council of Governments in St. Louis, Missouri.  Paul has 15 years of urban planning experience in the United States and China.  Paul is currently involved with the Regional Plan for Sustainable Development and implementation of the Loop Trolley urban circulator.  Paul is going to discuss opportunities and challenges to development identified in TOD studies around 5 St. Louis area stations just recently completed as a part of the HUD planning grant to the region.
Special thanks to our sponsors on this event:  Musick Construction Company, URS and the St. Louis Regional Chamber.