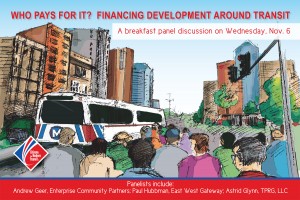 Who Pays for It – A Panel Discussion About Financing Development Around Transit
Date:  Wednesday, November 6.
Time:  7:30 am registration, 8:00 – 9:00 am panel discussion
Where:  The St. Louis Regional Chamber, 1 Metropolitan Square, #1300; St. Louis, MO 63102
Member Tickets are $15; Non-Member Tickets are $25.
Speakers:
Andrew Geer, VP & Market Leader, Enterprise Community Partner's Chicago Office
Paul Hubbman, Project Coordinator, East West Gateway
Astrid Glynn, Principal, TPRG, LLC.
Special thanks to our sponsors, Musick Construction, the St. Louis Regional Chamber and URS.
 $15 Member Ticket
$25 Non-Member Ticket