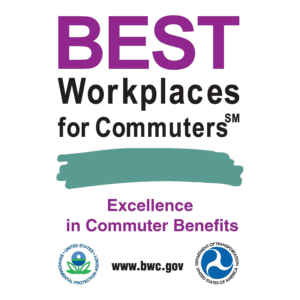 Do you work for a Workplace where how you get to work is important? Do you receive benefits, subsidies, or flexibility in order to make a choice for your commute?Thanks to a 2014 APTA grant, CMT will award one company in the St. Louis Region a membership to the Best Workplaces for Commuters (BWC) program this year for their exemplary commuter benefit program.The program is sponsored by the National Center for Transit Research, the Center for Urban Transportation Research, and the University of South Florida.
What it is:
Best Workplaces for Commuters is an innovative membership program that provides qualified employers with national recognition and an elite designation for offering outstanding commuter benefits, such as free or low cost bus passes and vanpool fares and strong telework programs.
Company Benefits for Being Nominated as a BWC
Gain a competitive advantage in recruiting and retaining the best workforce.
Local and National recognition for being a great place to work.
Be viewed as a leader in employee benefits.
Demonstrate a commitment to employees, the community, and a clean environment.
Additional Participation Benefits:
A year long membership covered by CMT, $230 savings for your company.
Exclusive rights to feature the BWC logo on your company website and materials.
Networking opportunities with your peers and experts in the field.
Technical assistance for enhancing your commuter benefits program.
Web conferences and training.
A framed certificate to display your company's elite status.
Eligibility for Nomination:
In order to qualify as one of the Best Workplaces for Commuters, your organization must offer at least one (1) of the following Primary Benefits:
At least $30 per month towards a transit pass or vanpool pass (or the full cost of a pass if it is less than $30) to each employee who commutes using transit or a vanpool.
At least 30 percent of employees participating in a pre-tax purchase of a monthly transit pass or vanpool pass of at least $30 per month (or the full cost of a pass if it is less than $30).
A significant telework program that reduces by at least 6 percent the number of commuting trips employees make.
A significant compressed work week program that reduces by at least 6 percent the number of commuting trips employees make.
At least $30 per month (in lieu of providing a parking spot) to each employee who leaves their car at home and commutes another way.
An equivalent benefit that provides similar value to employees, reduces traffic and air pollution, and is agreed to by Best Workplaces for Commuters.
Your organization must also offer employees access to an Emergency Ride Home program (you will meet this by registering in CMT's Best Workplaces for Commuters program, which will also enroll your company in the Guaranteed Ride Home Program).
3 supporting benefits, such as carpool matching, shuttles and on-site amenities (e.g., cafeteria, dry cleaners).
For companies with less than  20 employees, you need only provide one supporting benefit.
Your organization must agree to work towards a goal of 14 percent or more of employees NOT driving to work alone.
How to Win the Nomination and Membership?
Register for the Program Today – Register here
Report your progress back to CMT by September 2, 2014 to be considered for the nomination.  You can use the same form to report your successes, the updates will be logged in your company profile.
The St. Louis area company that registers the most new employees will win the nomination.
The winning company will be awarded publicly before the end of 2014.