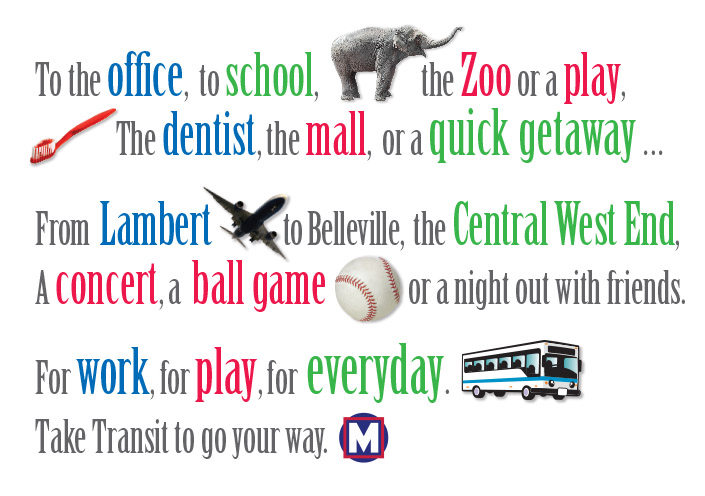 Why transit and why during May should you give transit a try?  CMT 's primary mission is to expand the public transit system we have in St. Louis to build livable, sustainable communities with light rail as the critical component.   So why do we continually push St. Louisans to give transit a try? If you ride transit, you are more likely to understand the need for public transit infrastructure in this community and its benefits beyond just the ride from Point A to Point B. However, the first step is giving transit a try.
Join Citizens for Modern Transit (CMT) as we host a month of events throughout May to promote St. Louis' transit system and its benefits to the region.  Make Your Move on Metro in May will include sweetening the morning commute for area transit riders, the return of The Great Race,  a Metro Market and numerous walks with the Ten Toe Express to name just a few.
This campaign helps the community think and talk about all the benefits transit provides the region.  Each activity not only promotes the significance of the ride from point A to point B, it underscores the benefits the 'ride' inspires outside the train window.   These benefits include greater economic development opportunities, increased independence and accessibility for older adults, a better environment,  better air quality, money savings and a means to help improve overall health
Public transit is not just a ride for someone else. While some St. Louisans utilize transit (thousands to be exact, on a daily basis, and the number is increasing each month), all of us need the public transit infrastructure the region has in place.  According to the American Public Transit Association, every dollar invested in public transit has a four dollar return for this region. St. Louis needs that. Since its opening in 1993, there has been more than $16 billion in development tracked within a half-mile of the MetroLink system.
According to the U.S. Center for Disease Control, Americans need to exercise at a minimum of 20 minutes each day, and with Missouri's obesity levels topping 30 percent and diabetes and heart disease on the rise, residents need opportunities to get moving and be healthy. Public transit users get that exercise at one or both ends of their trips. And, mixed-use neighborhoods with transit stops within walking distance make it even easier to achieve those daily goals.
In addition to development opportunities, health benefits, environmental advantages – did you know that it literally pays to ride transit? According to the American Public Transit Association, individuals who choose transit over owning a car can save more than $9,000 a year.
Whether for work or play, CMT hopes you will give transit a try and Make your Move on Metro this May.  Here are a few fun ways to get involved:
Wake Up to a Sweeter Commute on May 16th, 23rd and 30th
CMT along with the Y98 Entourage will be at one of the following MetroLink stations three of the five Fridays in May for Wake Up to a Sweeter Commute events.  Between  7:00 a.m. and  8:30 a.m., morning transit, bicycle and walk commuters can stop by for a complimentary granola bar, a thank you for riding, meet Y98's Entourage and receive information on the Guaranteed Ride Home program.  Wake Up to a Sweeter Commute events are scheduled for the following stations and bus transfer centers:
Friday, May 16 – Civic Center Transfer Center, 14th and Spruce streets, Downtown St. Louis, 63102
Friday, May 23 – Fairview Heights MetroLink Station, 9200 St. Clair Ave., Fairview Heights, IL 62208
Friday, May 30 – Central West End Station, 410 S Euclid Ave, 63110
Commuters should look for CMT members identified by their TEAM TRANSIT T-shirts designed in partnership with STL-STYLE.  The Guaranteed Ride Home Program is an incentive for commuters to travel to work by transit or bicycling rather than driving alone. It allows employees to take transit/bicycle while providing them a "safety net," or assurance that they can get home and not be left at work if a situation arises. This program provides immediate transportation, either a cab ride or rental car, in case of an emergency, sickness or unscheduled overtime. CMT has recently partnered with Enterprise Rent-A-Car to expand the program to include the rental car option as another alternative for getting home in case of an emergency.
To register for the program or to simply learn more, area residents are encouraged to stop by one of the previously mentioned "Wake Up to a Sweeter Commute" events or visit www.cmt-stl.org.
Great Race III on May 8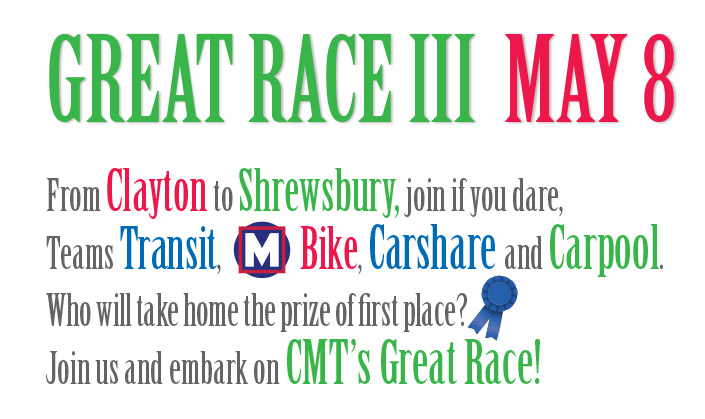 Designed to play off the CBS television hit, "The Amazing Race," the CMT's Great Race will place Team TRANSIT, Team BIKE, and Team CARSHARE in a head-to-head competition to see which transportation mode can travel from Clayton to the Shrewsbury MetroLink Station the fastest – a station located in both the City of St. Louis and St. Louis County.
The race is set for Thursday, May 8. It will get underway at approximately 4:30 p.m. at the Fortel's Pizza Den, located at 7359 Forsyth Blvd., St. Louis, MO 63105 with a Finish Line celebration as a part of the Metro Market at the Shrewsbury MetroLink Station from 5 to 7 p.m. Local media celebrities participating on the teams include:
Diana Zoga (Ch. 4)
Angela Hutti (Ch. 2)
Kevin the Intern (Y98)
Todd Morgan (KHITS 96)
Riz and Tony Patrico (105.7 The Point)
Jade Harrell (Magic 100.3)
Jean Ponzi (KDHX and KTRS)
Julie Cohen (Sauce Magazine)
Don Corrigan (Webster-Kirkwood Times)
Thanks to the sponsors for this event including the Enterprise Rent-A-Car, Great Rivers Greenway, the Missouri Foundation for Health, Metro, RideFinders, STL-Style, St. Clair County Transit District, Central States BUs Sales, Inc.  and the Fortel's Pizza Den in University City/Clayton.
Metro Market on May 8
Come out and join CMT at the Metro Market at the Shrewsbury MetroLink Station from 5 to 7 p.m. on May 8. This event will be a live visioning session on the potential for what could be at the Shrewsbury  Station and other stations, over and above a park-ride lot.   Fun, food, retail and more including local food trucks from Rack & Clutch, 2 girls 4 wheels and Destination Desserts; The Anita Rosamond Band, The MySci Investigation Station, a roving vehicle of innovative, hands-on exhibits and specimens that makes learning fun, and much more.
Ten Toe Express walks in May
The Spring Ten Toe Express is underway in St. Louis with walks to the Missouri History Museum, Bohemian Hill, Channel 9 Tour, Bissell House, Central West End Chess Club, Laumeier Sculpture Park and more in May.  For more information on these walks or how to register, visit www.tentoes.cmt-stl.org or call 314.231.7272.
Other upcoming events: 
National Train Day at Union Station, May 10, 2014
Wabash Station Visioning Session on June 7, 2014 from 8:30 a.m. to 12 noon
Try and Ride Program to be unveiled in June 2014
CMT Annual Meeting – September 12, 2014
Whether for Work. Play. Yesterday. Today or Everyday – any day is a great day to give transit a try.   Join us for one of these exciting events.