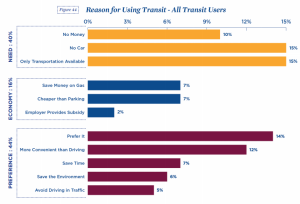 A recently released study compiled by the American Public Transportation Association, provides details on public transit passenger demographics to help answer the questions, who rides public transportation and how do they use it? Surveys were completed from 2008-2015 across 163 different transit systems and the results help paint the picture of public transportation in the US.
Who Rides Public Transit?
The largest group of public transportation users are ages 25-64 comprising 79% of all riders. Those 65 and older account for 7% of riders and those younger than 25 represent 14% of riders.
31% of transit riders reported coming from a household of two people while 26% come from a household of one, and 25% from a household of four or more people.
46% of those surveyed reported that they did not have a vehicle available to them while 36% they had one car available for their household.
The majority of transit riders, 65%, reported having a driver's license while 35% did not.
How Do Riders Use Public Transit?
It was found that 87% of trips on public transit directly had an economic impact on the local economy. This impact comes in many forms including using transit to get to and from work, to go shopping, and for recreational spending trips. Another 6% of riders reported utilizing public transportation to get to school or university.
In terms of how often people are using public transportation, 50% of transit riders reported using public transportation five days a week with only 13% using it six or seven days a week, which supports the research that most riders are using transit to get to and from work.
When looking at how riders get to their transit stop or station, 69% reported walking, 11% said they drove, and 10% used another mode of transit.
Riders were also surveyed on their motivations for using public transportation. 44% of respondents said taking public transit was their preference, 40% said it was a necessity, and 16% reported using public transit for economic reasons such as saving money on gas and parking.