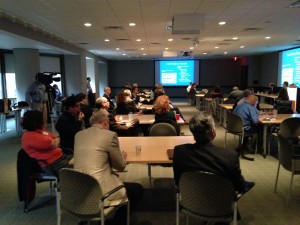 On Wednesday, November 6, CMT hosted a panel discussion entitled, Who Pays For It? Financing Development Around Transit.  The breakfast event was sponsored by Musick Construction Company, URS, and the Regional Business Chamber and featured the following presentations:
Astrid Glynn has spent more than a decade in the Massachusetts Executive Office of Transportation, with charge of capital planning, transit/rail programs, and transportation planning. She also served as Deputy Secretary in the Office for Commonwealth Development and two years as Commissioner at the New York State Department of Transportation. She is now a Principal  at the Transportation Planning and Resource Group (TPRG).   Astrid highlighted some creative financing she has encountered through transportation work in Massachusetts, New York, and as a planning and resource consultant.
Andrew Geer  – Andrew is vice president and Chicago market leader for Enterprise Community Partners, Inc. He focuses on identifying regional product opportunities in coordination with business line colleagues. Andrew is the lead in expanding Enterprise's programmatic presence in Chicago with a priority on advancing initiatives with local partners that will improve the livability of low-income residents in Chicago, including green design, regional sustainability goals and healthy housing for vulnerable populations.
Andrew has nearly 20 years of experience in community development and nonprofit leadership. Andrew discussed Enterprise Community Partner's financing strategies to build affordable housing.
Last but not least, Paul Hubbman – Paul is Senior Manager of Corridor and Long Range Planning with East West Gateway Council of Governments in St. Louis, Missouri.  Paul has 15 years of urban planning experience in the United States and China.  Paul is currently involved with the Regional Plan for Sustainable Development and implementation of the Loop Trolley urban circulator.  Paul discussed opportunities and challenges to development identified in TOD studies around 5 St. Louis area stations just recently completed as a part of the HUD planning grant to the region.
With more than 40 planners, Metro employees, architects, municipal leaders and citizens in the room, CMT hopes that attendees had the opportunity to think creatively about moving the region's TOD projects forward.
Please find the panelists presentations here for further reading.
The Five Station Area TOD reports of which Paul Hubbman spoke can be found here.