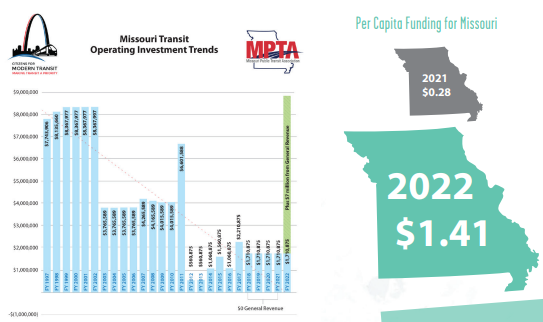 Fiscal Year 2022: CMT Transit Advocacy Moves into Action
In Fiscal Year 2022, transit advocacy moved into action through the ongoing work of Citizens for Modern Transit (CMT). While the transit industry was plagued by challenges including operator shortages, supply chain issues and historic flooding, this year, the organization celebrated the historic transit investment made by the State of Missouri; placed renewed focus on raising awareness about transit expansion, microtransit service availability and first-last mile solutions; and worked to further and/or complete "Transit Stop Transformation Projects" at Metro Transit Centers. The impact of these efforts extended well beyond ridership access and are playing a key role in furthering equity, opportunity and growth in local communities. Check out the CMT Fiscal Year 2022 Annual Report
Such outcomes have fueled the mission of Citizens for Modern Transit for the past 38 years and will continue to motivate the organization as we move into the future.

Since CMT's establishment in 1985, it has grown to represent more than 22,000 constituents, including transit riders, major employers, academic institutions, and labor and community organizations. CMT serves as a strong and effective voice on transit-related matters and is continually working to establish, support and enhance programming and initiatives to help further public transit access. The organization's goal is to play a fundamental role in maintaining a safe, integrated and affordable transportation system for the St. Louis region.
Throughout FY2022, CMT's advocacy efforts helped bring the region together, build support and prompt change. That said, there continue to be challenges for transit as it relates to building back ridership and addressing supply chain issues and labor shortages. This coming year, CMT will work to further three key areas of opportunity. These include increasing community collaboration and support for transit at the regional and state levels, rebuilding ridership numbers and maintaining the organization's financial stability. We also look forward to working alongside regional leaders as they prepare to make important decisions tied to the future of transit.
Public transit is moving in the right direction.  Join us for the ride.
Hart Nelson Chair, CMT Board of Directors
Kimberly M. Cella,  Executive Director, CMT
CMT Fiscal Year 2022 Annual Report
"I want to congratulate CMT on your outstanding year, most recently including the historic funding that was secured from the state of Missouri for public transit and preventing legislation allowing concealed weapons from being carried on transit buses, vans, and trains. CMT benefits our region through its advocacy of forward-thinking transit policy that will help, among other things, support a more productive and equitable future for our workforce, a top priority for RBC."
Kathy Osborn, President & CEO, The Regional Business Council
"Public transit is essential to the recovery and growth of our communities in the city. We have to ensure access to jobs, education, and healthcare throughout the entire region. We can see the impact of public transit in the central corridors – areas like the Central West End and Midtown are booming with the help of MetroLink – but not everybody is participating in that success. The Cortex Station has been, and will continue to be, a critical development tool in that area and has the support of the biggest employers in the City – BJC, Wash U, and Saint Louis University. Transit has the unique ability to successfully cross boundaries like the city limits, the river, and more. For the region to capitalize on the benefits of transit, we can no longer view it in silos – like city vs county. The future of transit is really rooted in a regional approach, and the city is definitely ready to get on board."
City of St. Louis Mayor Tishaura O. Jones
"My view of public transit falls into two major bundles. First, of course, how do we address disparities and inequities in our region, and how do we make sure everyone has access to healthcare a job or healthy food options? Public transit has a real role there. But also, for those of us in the County, it is also an important economic development tool. Public transit is how people get to work. And if we want our businesses to be able to operate and provide vital services in our communities – we need to make sure that folks who work there, can get there. Public transit is an important part of that."
St. Louis County Executive Dr. Sam Page