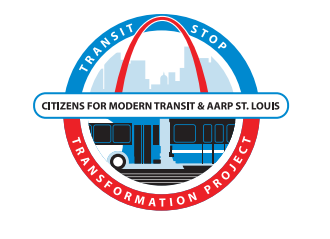 Citizens for Modern Transit, AARP in St. Louis, St. Clair County Transit District and Metro Transit are seeking public input on the design concept for the "Transit Stop Transformation Project" at the 5th & Missouri Transit Center in East St. Louis. Residents have multiple opportunities – both online and in person – throughout the month of February to view the design and weigh in on the specific design elements. The design was developed by Trivers, based on initial input received in 2022 from transit riders, residents, elected officials and other stakeholders via design workshops, surveys and community events
Individuals can weigh in onlinethrough Tuesday, Feb. 28, or in-person at the 5th & Missouri Transit Center, located at 150 North 5th Street East St. Louis, during the following dates and times:
Thursday, February 2:  2:30 pm – 4:30 pm
Wednesday, February 8: 7:30 am – 9:30 am and 2:30 pm – 4:30 pm
Saturday, February 11:  8:00 am – 10:00 am
Monday, February 13:  7:30 am – 9:30 am
The "Transit Stop Transformation" Project at the 5th & Missouri Transit Center aims to transform the concrete areas between the MetroBus bays and entrance to MetroLink, into vibrant interactive space with additional seating, shading, artwork and more. Once the second round of community engagement is completed, the design concept will be finalized, and construction will commence. The project is projected to be complete in the summer of 2023.
The goal of this and all other "Transit Stop Transformation" Projects is to transform places that people typically pass through on their way to their next destination into community amenities that improve safety and security, build ridership and increase engagement around transit. Each project showcases a deep understanding of and commitment to equitable development around transit, the impact and possibility of play, the ability for creative interventions to produce long-term impact in neighborhoods accessible for residents of all ages, and the need for collaboration to succeed.
Transformations have been completed at a MetroBus Stop in Maplewood, the Emerson Park Transit Center in East St. Louis, the Belleville Transit Center in Belleville, and the North Hanley Transit Center in North St. Louis County. Each has turned expansive concrete areas into interactive space boasting community themes, vibrant colors, seating, shading, lighting, greenery and elements of play that encourage community.
To take the online design concept survey, please click the link here.
Email info@cmt-stl.org with any questions.
Take a look at the Public Engagement Video below.