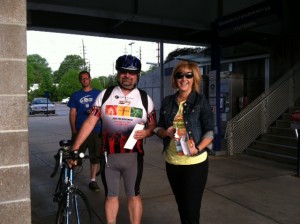 Volunteers Needed for CMT's Wake Up to a Sweeter Commute Event on Friday, May 23rd at 7:00 am at the Fairview Heights MetroLink Station!
CMT, Y98's Entourage, and YOU will post between  7:00 a.m. and  8:30 a.m. at the Fairview Heights MetroLink station to thank morning transit, bicycle and walk commuters for leaving their cars at home.  We will be giving commuters complimentary granola bars, a thank you for riding, and information on the Guaranteed Ride Home program.  Wake Up to a Sweeter Commute events are are part of a month of events throughout May to promote St. Louis' transit system and its benefits to the region.  Make Your Move on Metro in May includes the Wake Up events, the return of The Great Race,  a Metro Market and numerous walks with the Ten Toe Express to name just a few.
Wake Up Events will be held at the following stations and we hope you'll join us on the 23rd!
Friday, May 16 – Civic Center Transfer Center, 14th and Spruce streets, Downtown St. Louis, 63102
Friday, May 23 – Fairview Heights MetroLink Station, 9200 St. Clair Ave., Fairview Heights, IL 62208
Friday, May 30 – Central West End Station, 410 S Euclid Ave, 63110
If you are interested in volunteering for the Fairview Heights event, write CMT at info@cmt-stl.org and tell us of your availability and interest!  We'll hope to thank area commuters with you!