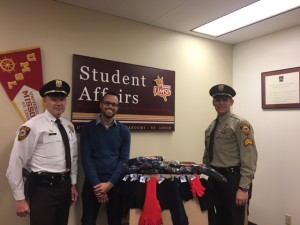 The St. Louis County Police Metrolink Unit has partnered with UMSL Student Affairs to provide hats and gloves to riders this Winter. Police officers on the MetroLink system will be handing out hats and gloves to riders along the system.
CMT Board member D'Andre Braddix spearheaded the efforts on behalf of UMSL.
Picture on right, Captain Scott Melies, MetroLink Police Unit, UMSL Assistant Dean of Students and CMT Board Member D'Andre Braddix and St. Louis County Sergeant Andrew Soll.