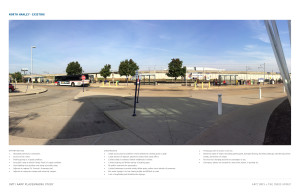 A new report from the Urban Land Institute (ULI) St. Louis provides recommendations for development opportunities around the intersection of North Hanley and University Place Drive in North St. Louis County. Working with University Square Community Development Corporation, University Missouri- St. Louis, Bi-State Development, and Geiger Real Estate, Inc./Geiger-Hanley LLC, ULI St. Louis completed a Technical Assistance Panel (TAP) to study the potential development opportunities available for approximately 20-30 acres on the north and south edges of University Place Drive east of Hanley Road in unincorporated St. Louis County.
One of the questions the panel was asked to address was, 'How can the development area take full advantage of the North Hanley MetroLink Station?'
When exploring the assets of the development area, its potential for Transit Oriented Development (TOD) was noted. The report explains that "developers seek highly-prized land proximate to transit stations in order to provide future tenants with affordable and convenient access to public transportation, thereby providing options for employment, housing, shopping, and recreation in a car-optional setting." In addition to light rail within the development area, there are as many as 11 bus lines that circulate through the station. Bi-State also maintains a three-story, 780-space parking garage at the site. With light rail and bus transit, a large parking garage, and available land nearby, the development site is primed for transit oriented development.
With the amount of people coming in and out of the development area via public transit, there is an additional opportunity to provide services to those passengers. According to the report, "the North Hanley Station is one of the system's most active nodes, serving both light rail and bus riders throughout the day. With 3,350 transit riders passing through the station on an average weekday, there is tremendous opportunity to provide services to this population." As a bus transfer station, there are often bus passengers in the area for 20 to 30 minutes during bus layovers. The report asks, "What if there were options to purchase a cup of coffee, a light sandwich, or even pick up fresh produce from a farmer's market or retail stand?" This presents a great opportunity to provide various retail options for passengers as they come and leave the transit station.
Final recommendations for the development site included:
● Introducing commercial uses in the area, including office space, incubator space, retail (personal services), and hotel/conference space;
● Embracing the transit opportunities at the site and making the experience of moving in and around the site more enjoyable and safe for pedestrians, bicyclists, transit riders, and drivers; and
● Bringing higher density housing to the site.
To read the full report and explore the team's final recommendations, please visit: http://stlouis.uli.org/wp-content/uploads/sites/51/2012/07/North-Hanley-TAP-report-final.pdf.