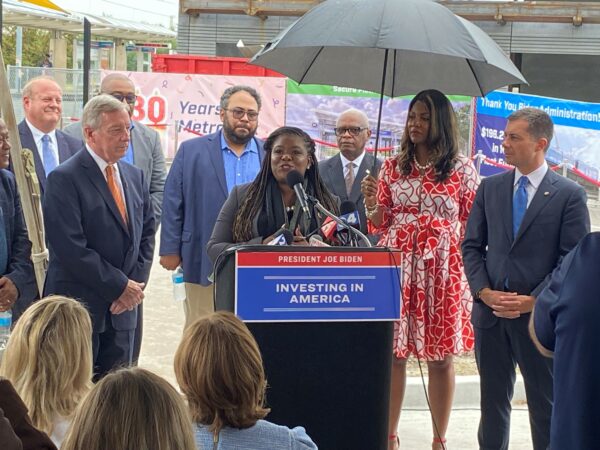 U.S. Transportation Secretary Pete Buttigieg arrived in the St. Louis region yesterday to announce more than $223 million in funding for Metro Transit to replace aging light rail cars and repair damage from flooding.  The announcement came yesterday afternoon at the Emerson Park Station in East St. Louis after Secretary Buttigieg spent the day touring the St. Louis system.
$27 million will be used to help repair damage sustained during last summer's historic flooding. The additional $196 million will fund 48 new light rail cars.  LRV vehicles have a lifespan of about 25 years. Metro Transit is operating about 30 cars which have been in service for 30 years.
The $27 million in disaster relief came from a 2022 appropriation US Senator Dick Durbin helped secure. The other $196 million is part of a program connected to Biden's Bipartisan Infrastructure Law, passed in 2021.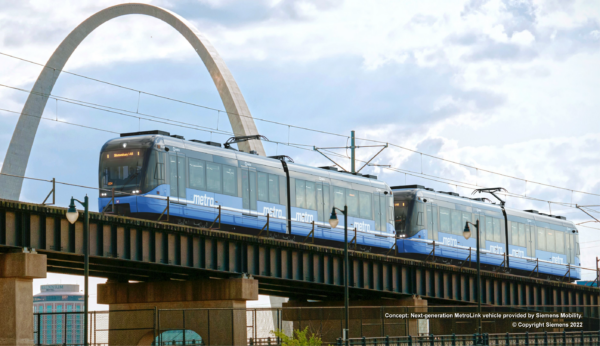 Dignitaries at yesterday's announcement included Secretary Buttigieg, U.S. Rep. Nikki Budzinski, D-Springfield; U.S. Rep. Cori Bush, D-St. Louis County, and U.S. Sen. Dick Durbin, D-Illinois, flanked by local electeds including St. Clair County Chairman Mark Kern and East St. Louis Mayor Charles Powell III.
Emerson Park, the site of one of CMT's Transit Transformations, served as the backdrop for the press conference and is the site of the new $13.6 million public safety center under construction.   The project funded in part by a Rebuild Illinois grant and the remaining $3.6 million from the St. Clair County Transit District is set to open in February 2024.