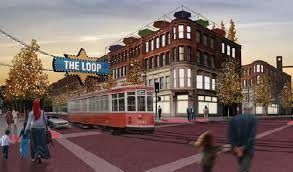 The TriMet board agreed to an agreement that will send two vintage trolleys to the St. Louis Loop Trolley Transportation Development District for $80,000. The deal will allow TriMet to free up the trolley barn in the Rose Quarter for a MAX maintenance station that will come in handy when trains break down on the Steel Bridge. The trolleys originally cost $920,000 in the late 1980s, but 80 percent of the purchase was covered by federal grants.
Cars 511 and 512 — known for their original woodwork, iconic design and old-time conductors — to St. Louis for daily use on the Loop Trolley Alignment.
The Loop TDD will be responsible for the cost of transferring the trolleys to St. Louis.
More information:  http://www.oregonlive.com/commuting/index.ssf/2013/12/trimet_board_will_vote_on_exte.html