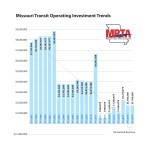 The Missouri 2019 Legislative Session kicked off last week in Jefferson City, Missouri.  There have been several transportation funding bills already introduced:
We will continue to update CMT members as the session moves on.
There are many ways for you to be involved with these efforts as CMT members and transit supporters.
1.  Please contact your legislators to express your interest in transit funding.  There are many new legislators in office and will need to hear from their constituents that transit makes a difference.
2.  Continue reading CMT's eblast and blog postings that will keep you updated on where things stand.
3.  Call, visit or email your state legislators about the need for a state funding plan for transit
4. Contact Governor Parson about the need for Missouri to support public transit especially as conversations continue about transportation funding with the defeat of Prop. D.
5. Make sure your locally elected officials also hear from you on the importance of transit.
6. RIDE TRANSIT, and invite others to get on board with you.
Thank you in advance for all you do to make St. Louis a better place to be with Transit!