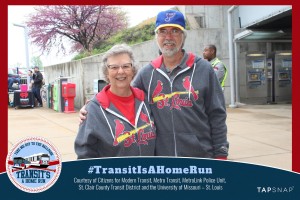 Citizens for Modern Transit, Metro Transit, the MetroLink Police Unit, St. Clair County Transit District and University of Missouri – St. Louis  teamed up to brag about the advantages of public transit and thank riders for choosing transit to get to the ball game. On Wednesday, April 24, from 9 a.m. to 11 a.m., representatives of these partnering organizations were at the Shrewsbury-Lansdowne I-44 Transit Center, North Hanley Transit Center and Fairview Heights Transit Center handing out thousands of Cracker Jack® bags that boasted why "Transit is a Home Run." Officers from the MetroLink Police Unit and Metro Transit Public Safety randomly distributed branded earbuds to passengers on MetroLink trains.
The TapSnap™ Studio Photo Booths at each location was a big hit with riders, showing off their game day spirit and enthusiasm for public transit at each site. Riders were able to get a commemorative game day photo taken to share on social channels explaining why #TransitIsAHomeRun, and one to take home with them as well. The Shrewsbury-Lansdowne I-44 Transit Center also featured additional fun with a mini home run derby game set up.  Riders that hit a home run were entered into a drawing for Cardinals memorabilia and tickets to a future game. Plus, Jordan from Z107.7 FM was on hand with music and a chance to win either a Google Home Mini or Echo Dot, both of which keep people connected to baseball and local public transit news and resources.
Check out more event photos on the CMT Facebook page here.