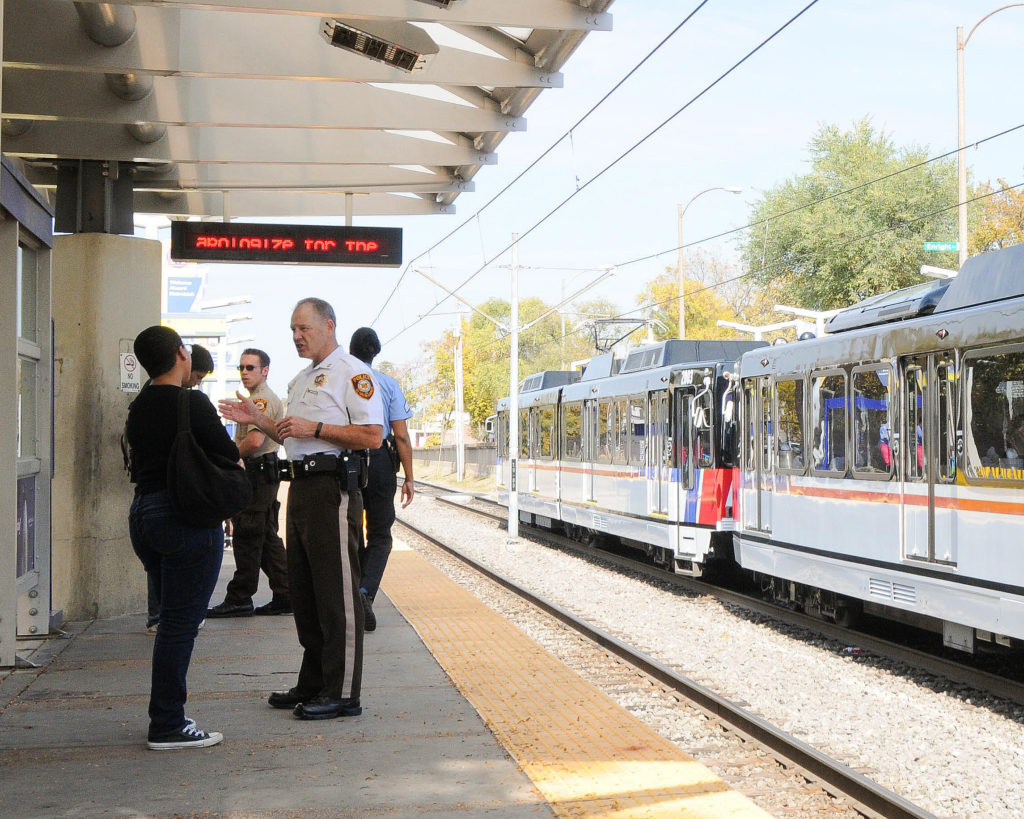 St. Louis County Police appointed a new Commander of MetroLink a little more than 2 months ago, and Captain Scott Melies is happy to be on the job.
"I view the MetroLink system as a community, and our job is to ensure this community is safe," said Captain Melies. "Just like we would work to keep any neighborhood we are serving safe, our job is to know our neighbors, engage with our neighbors, and make sure their MetroLink community is safe and secure for any rider on the system."
A longtime resident of St. Louis County, Captain Melies is working to ensure the MetroLink system is secure for all riders – including both visitors and daily users.  He oversees the 26 St. Louis County and City officers assigned to the MetroLink Unit. In addition, he works with the Sheriff's Department in St. Clair County, Ill., to ensure the entire system is an inviting way to travel in the region.
According to Melies, crime is down 18.8 percent so far this year on the MetroLink system which includes the actual trains, stations and rights-of-way. "While incidents on the system are down, my goal is for our officers to get engaged with the riders. We need to know who they are, hear their concerns, and provide any support or assistance necessary.  The numbers are telling the story, and we have an opportunity to work together to decrease incidents even further," said Melies.
Melies is currently conducting an audit of all procedures and indicated he has plans in the works to increase opportunities for his officers to work with riders. New strategies include events for transit riders to meet the MetroLink officers, the release of public transit safety tips, the availability of 911 texting in case of emergencies n 2016, and opportunities to report any concerns via the internet.
There are a lot of advancements in the works related to the MetroLink system and safety must remain a priority. The recent Ferguson Commission Report featured two signature calls-to-action for transit including the selection of a regional priority project for expansion and a state funding plan. St. Louis County is also wrapping up the process of selecting a corridor for a study for future light rail expansion.
"It is imperative that the transit system in St. Louis is safe and secure for current and future riders in order to gain support for any future expansion," said Kim Cella, executive director of Citizens for Modern Transit. "We look forward to working with Captain Melies to find ways to assist with their engagement of  riders on the system."
Captain Melies understands the importance of a secure public transit system for the region, "I ride the MetroLink all the time. When I'm not working, I love to bring my bike on board and explore all St. Louis has to offer. I want other St. Louisans to see MetroLink as a great, safe way to go, and we, the MetroLink Unit, are there just in case assistance is needed."