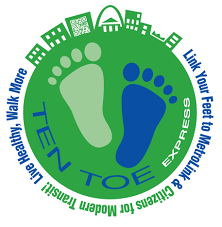 Citizens for Modern Transit and the Green Business Challenge are teaming up with other local stakeholders to host a special event for the July Green Business Challenge seminar.  The tour will take place on July 10, 2019, from 8:30 am to 11 am, beginning and concluding at the UMSL North MetroLink Station.
Green Business Challenge participants will meet at 8:30 am on UMSL'S campus to visit and learn about the campus's rainscape installation, near the new Millennium Student Center.  After the tour and brief discussion on campus water conservation efforts, the group will board the MetroLink and ride to the new Cortex MetroLink station.  After a presentation about the station's rainscape and green features, the group will return to UMSL via MetroLink to conclude the tour by 11 am.
The Ten Toe Express program is designed to help new transit riders learn to navigate the system by teaching basic skills such as transit schedule and map reading, fare purchasing, and wayfinding.  This program has recently been expanded from active older adults to also include college students and sustainability professionals.
To find out more about the Ten Toe Express, visit www.cmt-stl.org