Citizens for Modern Transit (CMT) – the St. Louis region's transit advocacy organization – hosted a virtual "Talking Transit" event on Wednesday, Jan. 19, via ZOOM. The event provided an update on the trajectory of transit in the St. Louis region for 2022.
Those in attendance received updates on various transit projects currently underway, including light rail expansion to MidAmerica Airport, the Brickline Greenway's integration with transit and the expanded Northside-Southside Corridor Study. The discussion featured a panel that included Patrick Judge, Principal, Gonzalez Companies and project manager for the IL LRT project; Mark Vogl, Project Manager-Planning, Great Rivers Greenway, and lead on the Brickline Greenway; and Jennifer Obertino, Senior Vice President, AECOM, and project director for the Northside/Southside Study.
Below is an overview of what was presented for each project, followed by what was identified as the "need" to keep each moving forward. To see the Talking Transit event in its entirety, click here.
MidAmerica MetroLink Expansion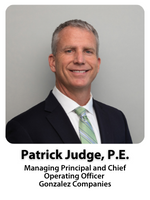 A 5.2-mile MetroLink expansion from Scott Air Force Base to MidAmerica St. Louis Airport is set to break ground in August 2022. It will be funded, in-large part, by a $96 million Rebuild Illinois Grant. Project stakeholders include St. Clair County Transit District (current owner), Bi-State Development (to own and operate once complete), St. Clair County (controls MidAmerica St. Louis Airport), Gonzalez (project and construction managers) and WSP (engineering designers and provider of environmental planning and construction support services). The expansion will include a 2.6-mile, double-track section; a 2.6-mile, single-track section; and a passenger station at the end of alignment at MidAmerica St. Louis Airport. Pending available funds, the project could also include the extension of a bike trail and Rieder Road, as well as a new access roadway. Construction is expected to be complete in Spring 2025.
NEED: We need partnerships with private developers and private investment funds. The MetroLink expansion will be part of the economic engine of that area. Boeing and other developers are investing a lot of money here and there will be a lot of jobs. We need to provide easy access for transit riders to get to work. We need to look at the big picture and make sure we are working with private development and community engagement to make sure we are in touch with the people we are serving.
Brickline Greenway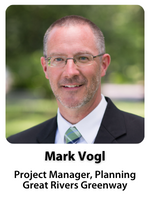 Great Rivers Greenway is establishing a network of greenways across the St. Louis area as part of  transportation infrastructure plan to help build a regional system with multiple neighborhood connections, providing transportation options for people of all abilities while creating more sustainable communities. Great Rivers Greenway continues to collaborate with Bi-State Development to make these greenways and transit connections a reality. The Cortex MetroLink Station and first segment of the Brickline Greenway were completed in 2018 through a $10 million TIGER grant and local matches. Great Rivers Greenway has been awarded a $4 million CMAQ grant to extend the Brickline Greenway from the Cortex MetroLink Station three-quarters of a mile east to the Grand MetroLink Station.
NEED: We need partnerships and collaboration at all levels. A successful project cannot be delivered without partnerships – including community members, residents, Metro and MODOT, city agencies and the private development community. We need to be collaborating and coordinating all of our efforts together to ensure we are seeking the same goals, leveraging resources and making sure our tactics and schedules are aligned.
Northside-Southside Corridor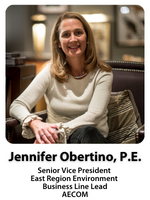 The Northside-Southside Corridor Technological Alternative Analysis is a regional collaboration currently underway and worthy of a gold star as St. Louis City, St. Louis County and Bi-State Development come together for this 15-month effort. The study will examine the light rail and bus rapid transit possibilities that exist within the City – including Goodfellow to Bayless, 1-55 and Broadway, Grand to Chippewa and rethinking downtown as it relates to Market Street, highway interchange issues, the ability to serve Civic Center and emerging densities to the west and more. The county is looking into opportunities for extension in North County via Florissant to the North County Transit center, as well as in South City and County via I-55 and Broadway. A lot has changed since the study was initially completed in 2018, and new demographics, rider impact due to COVID, changing sales taxes, advancements in technology and the county's participation all need to be taken into consideration. This process includes engagement with stakeholders and the community at-large and will include stakeholder interviews, small group meetings (virtual/in-person), connecting with existing meetings, demonstrations, door-to-door outreach and more. The timeline is critical due to federal funds available for transit through the Infrastructure Investment and Jobs Act. It is very critical that this effort moves forward. It must be examined from a regional perspective in order to improve accessibility for all and be a successful candidate for this funding.
NEED: We need to move this project forward quickly. We need input, support and thoughtfulness from the community about what is going to work for them. We also need to be aligned as regional partners in order to receive federal funding, development and private investment.
Look for continued updates on these projects and others on the CMT Website.
Presentation and materials below:
Great Rivers Green Way Presentation Slides
Northside/Southside Presentation Slides