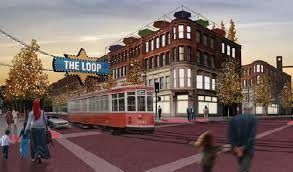 The St. Louis Development Corporation has posted reports from their Transit Oriented Development Studies on the Arch-Laclede's Landing and Stadium Stations as well as on the Delmar Loop and Forest Park – DeBaliviere Stations.  H3 Studio, Inc developed the plans and will be drafting plans for proposed stations along a planned Northside-Southside extension as well.
The current MetroLink alignment spans 46 miles and has 37 stations, of which 12 are in the City of St. Louis.
The studies were funded through the $4.6 M Sustainable Communities Regional Planning Grant (awarded to East-West Gateway) under the U.S. Department of Housing and Urban Development. For more information on this grant, visit http://www.onestl.org/. [www.onestl.org]
To read the plans visit the City of St. Louis's website here.