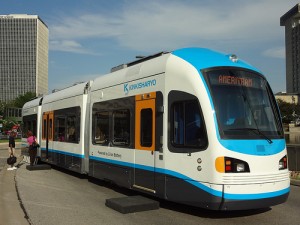 The U.S. Department of Transportation (USDOT) recently announced the award of $474 million in TIGER grants to 52 projects in 37 states.    This year there were 585 applications requesting more than $9 billion in funding.  In total, the program, in its fifth year of awards, has provided more than $3.6 billion to 270 projects.  Kansas City was the biggest winner this round with a grant for $20 million for the Downtown Streetcar project.
Recent initial analysis provided by the Community Transportation Association of American noted the following statistics:
Transit and freight projects were the biggest winners in USDOT's TIGER V competitive grant program, taking roughly 55% of the $474 million awarded.
Transit/Rail (16 projects): $176,414,257
Freight (14): $103,610,173
Roads (9): $57,642,885
Bike-Ped (7): $70,731,090
Complete Streets (6): $49,448,595
The top five awards were all city projects. In fact, nearly all of the awards went to cities, counties, or ports. Few grants went to State DOTs.
Kansas City, MO: $20,000,000 for the Kansas City Downtown Streetcar
Atlanta, GA: $18,000,000 for the Southwest Atlanta BeltLine Corridor Trail
Rochester, NY: $17,700,000 for the Inner Loop East Reconstruction
Fresno, CA: $15,924,620 for the Fulton Mall Reconstruction