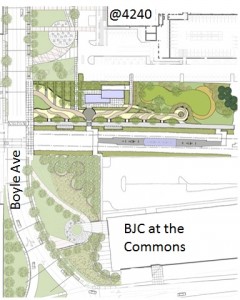 Senator McCaskill's office just announced that TIGER Grants were approved for capital funding for the St. Louis CORTEX MetroLink station and CWE Station upgrades and MO River Bridge in Washington, MO.  Approximately $10.3 million was awarded to the Cortex project specifically.
TIGER funds are highly competitive, federal grant monies for infrastructure projects.  The funds are designated for major national and regional transportation projects that are difficult to pursue governmental funding for.  This year, the DOT received 797 applications totaling $9.5 billion, 15 times the $600 million available.  This is a momentous moment for transit, Metro, Missouri and the St. Louis region.
The TIGER award for the project was made possible by completion of the feasibility study Citizens for Modern Transit led earlier this year.  In partnership with area stakeholders, the study represented a true public-private partnership that raised the local match to pay for the study and to team  with Metro to manage the project and move it forward.
"As a transit advocacy organization, we were thrilled to have the opportunity to work proactively and collaboratively with stakeholders in the region, Metro and others to complete the necessary feasibility study and move the process forward for an additional station on the MetroLink alignment.  Congrats go to the stakeholders and Metro for ensuring St. Louis sees more MetroLink now in much nearer future. This is an opportunity for a true TOD in ST. Louis where residents can live, work and play on transit," said Kim Cella, executive director of Citizens for Modern Transit.
The study was prompted by growth in the study area and the need to consider the merits of transit improvements requested by area stakeholders and to adhere to an FTA study process for making changes to Federal assets.
Of the projects funded, McCaskill said, "After seeing these projects firsthand earlier this year, I knew that new resources would mean more jobs and more economic opportunities for for our state-and that's why I'm thrilled to make this announcement.  These grants are competitive, and are awarded based on merit, so Missourians can be confident that these are worthy investments that will strengthen Missouri's economy."