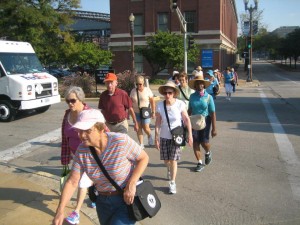 Citizens for Modern Transit (CMT) and Beyond Housing are pleased to announce the 2nd session of the Ten Toe Express, Rock Road MetroLink Station walking group.  Co-sponsored by CMT and Beyond Housing and funded by a Healthy Corridor Grant from the Missouri Foundation for Health, the Rock Road Ten Toe walking group launched in the Fall of 2013 and got off to a roaring start!  The group meets at the Rock Road MetroLink Station on Sundays at 2:45 pm to catch the 3:00 pm train and you are invited to join them. The spring session kicks off on April 3 and registration is now open.
The CMT Ten Toes Express is a walking program that links MetroLink & MetroBus with residents own Ten Toes to explore the St. Louis region and step their way to healthier lives.  Benefits of the program include a walking kit (valued at $50), opportunities to walk with family and friends around the St. Louis area, guided walks with trained walk leaders, opportunities to use MetroLink and MetroBus to explore both Missouri and Illinois, and resources to track walking and eating habits.  The program has been a huge success since its launch in 2007, helping to introduce more than 7,000 people to transit and all the places it can take you.
There are Spring and Fall walking sessions every year that run for 12 weeks and involve weekly walks from stations throughout the area.  In addition to the Rock Road group sponsored by Beyond Housing, Ten Toe groups also leave from the Belleville, Brentwood, Forest Park, North Hanley, and Shrewsbury stations.  To participate in the program, walkers can register online at tentoes.cmt-stl.org or call CMT for a registration form at 314-231-7272.  Each session costs $5/participant, though registration fees are waived for the first 25 registrants affiliated with Beyond Housing.
Benefits of the program go beyond the health aspects.  Take it from one of our fall Rock Road walkers Kathia Betts, "I really enjoyed the program. It was nice riding the MetroLink and viewing different cultural areas in St. Louis area. I miss it and look forward to the program starting in the spring."
The Ten Toes Program is an opportunity to explore city amenities, make new friends, spend time with old ones, increase your activity levels, and learn to navigate the St. Louis region using transit.
The Ten Toes Spring Session will kick off on April 3, 2014 with special walk, an African-American Heritage Tour of Downtown St. Louis, led by the National Park Service.  Stops on the walk will include the city jail, the first high school for colored students, and Harriet Scott's death site.  The tour will meet at the 8th and Pine MetroLink Station at 9 AM and walk to the Old Courthouse where the tour begins.  The tour should last about 3 hours at a moderate walking pace and has been planned so that food and refreshments will be available for purchase at the midpoint of the tour.
If you are interested in participating, don't hesitate to register online or call CMT at 314-231-7272 with questions.    Step toward a healthier you with your own Ten Toes and transit in 2014!