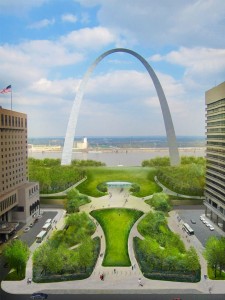 Ever find yourself walking downtown and wondering about the construction, progress and vision for Downtown St. Louis?  CMT's Ten Toe Express walks often pass through downtown on their various adventures, but rarely get a behind the scenes glimpse of the developments.  Therefore, on Wednesday, October 15, walkers will get a private introduction into several of the downtown developments with Matt Schindler of the Partnership for Downtown St. Louis.

Ten Toe walkers will meet at the Union Station MetroLink Station, will see the renovations at the Grand Hall in Union Station, will then walk down to learn about developers plans for the arch grounds, and will conclude their activities at Ballpark village where walkers will have the opportunity to grab lunch or hop back on the Metro home.
Walkers are asked to RSVP, as there are a limited number of spots available.  All walk details can be found below.
Ten Toe Express Tour of St. Louis' Downtown Development with Matt Schindler of the Partnership for Downtown St. Louis
When: Wednesday, October 15, 2014; 9:30 am.
Where to meet CMT: Union Station MetroLink Station
Length of Walk: Approximately 2 miles, approximately 2.5 hours at a moderate pace
RSVP required
As you have seen on Ten Toe walks or on your own adventures downtown, there is a lot happening in downtown St. Louis. Buildings are being bought, sold, and renovated. New buildings are going up. Some businesses are leaving and others coming. If you're curious about all the happenings in downtown St. Louis, this is your chance to get a first hand, behind the scenes introduction to it. Join CMT and Matt Schindler, Director of Community Development at the Partnership for Downtown St. Louis for a behind the scenes tour of the new developments at Union Station, Ballpark Village, CityArchRiver, Clark St., Municipal Court bldg. plans, old Police Headquarters, Cupples 9, new Laclede Gas bldg., Chouteau's Greenway and more! This won't be your everyday walk through the city. Come and see how things are developing downtown and all the exciting things in the works!
To RSVP for this walk, visit https://cmt-stl.org/crm/index.php?q=civicrm%2Fevent%2Fregister&reset=1&id=9