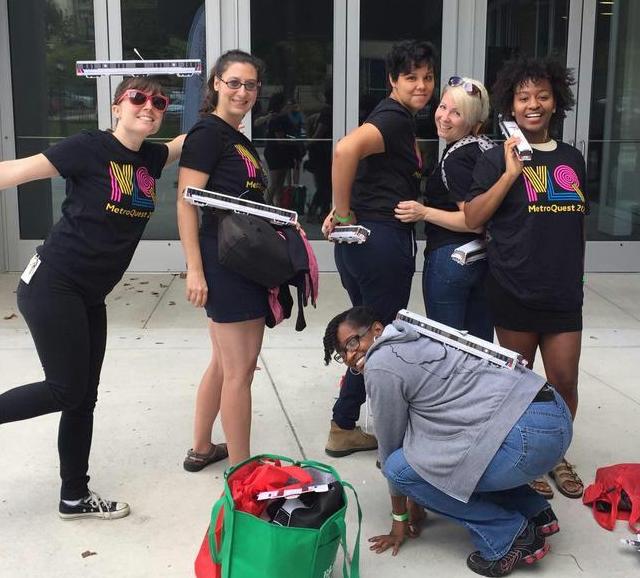 Team Transit represented CMT at St. Louis Public Radio's 4th annual MetroQuest this past weekend. This is the third consecutive year that Citizens for Modern Transit has sponsored the event.
Part scavenger hunt, part pub crawl, and part St. Louis city trivia competition — MetroQuest invites participants to discover new venues and neighborhoods and St. Louis while showing them how easy it is to use public transit to get around.
This year's MetroQuest event took participants along the Grand Boulevard corridor from the Grand Arts District in Midtown through Shaw and Tower Grove Park, and ended in the Fox Park neighborhood.
One of the rules of the event is teams can only travel along the course by foot or by bus — no cabs, cars, bikes, or Uber allowed! All competing teams receive a Metro day pass for each team member and a Metro schedule to help plan their route to various venues where they complete trivia questions, games and challenges in the "Only in St. Louis" Scavenger Hunt.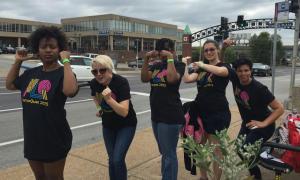 CMT team member Sarah Bullock uses MetroBus every day to get to and from work and classes at the Forest Park campus of St. Louis Community College (thanks in part to STLCC's new U-Pass program). Bullock was enthusiastic about the event, commenting that this year's MetroQuest scavenger hunt "was a brilliant way to showcase transit, as well as dining and entertainment along Grand Boulevard!"
While most of CMT's team consisted of regular or occasional transit users from near the general neighborhoods the competition covered, team members still learned some new things.
Lacy Cagle, recent transplant to St. Louis from Portland, Oregon has lived in Tower Grove South for the past year. Cagle enjoyed the weekend's event, in part because it helped her learn more about her neighborhood. "MetroQuest was a blast!," Cagle said. "A great way to see the city, find out about local businesses, and meet my neighbors!"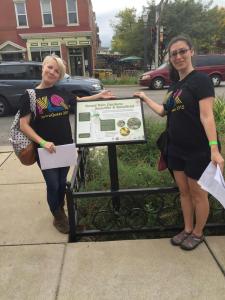 15th Ward Alderwoman Megan Green is a transit support and occasional user, but noted that participating in the event encouraged her to try taking the bus more often. "I didn't realize how quick and easy it is to get from Tower Grove South to SLU's campus on the #70 bus!," Green remarked.
Venues in Grand Center that participated in this year's event include The Dark Room, Diablitos Cantina, Dooley's, Field House, Fountain on Locust, and Urban Chestnut. Along South Grand, LuLu's Local Eatery, Mangia Italiano, Cafe Natasha, The Purple Martin, Rooster, and Steve's Hot Dogs took part in the event.
If you are interested in joining CMT at future events, please email us at info@cmt-stl.org
To find out more information about MetroQuest, visit www.stlpublicradio.org/metroquest/