This year, GiveSTL will be celebrating its 10-year anniversary as CMT celebrates 39 years of moving transit advocacy to action.   We have set a goal of $3900 for GiveSTL Day to build support for people and places through TRANSIT ADVOCACY at CMT for this year.   We hope as a CMT supporter you will consider it a gift to help us reach that goal.   Giving is now open at https://www.givestlday.org/cmt.  Any gift amount is greatly appreciated.
Give STL Day is powered by the St. Louis Community Foundation. Give STL Day 2023 is a 24-hour, online day-of-giving event designed to ignite the spirit of giving across the region and support causes in the St. Louis area where we live, work and play. Since the inception in 2014, Give STL Day has raised over $26 million to local nonprofits, including CMT.
Early giving is open, head over to https://www.givestlday.org/cmt to donate TODAY and hear about the different projects CMT has taken on in its efforts for an integrated, affordable, and convenient public transportation system with light rail expansion as the critical component that will drive economic growth to improve quality of life in the St. Louis region.
Testimonials
"Developing a skilled workforce is critical to the long-term economic growth of St. Louis. A key factor in this is making sure workers and those wanting to reskill can get to and from school and work efficiently and cost-effectively. For many this means using public transit. Advocating for expanded access is one of CMT's many missions. By supporting this organization you are supporting critical transit access programming and leadership working to further our safe, integrated, world-class system." Hart Nelson, Chief Operating Officer, St. Louis Community College
"Through the years, CMT members and staff have been active advocates for our region's transit system. They're champions for the value that transit brings to St. Louis ."  Adella D. Jones, Chief of Staff, University of Missouri-St. Louis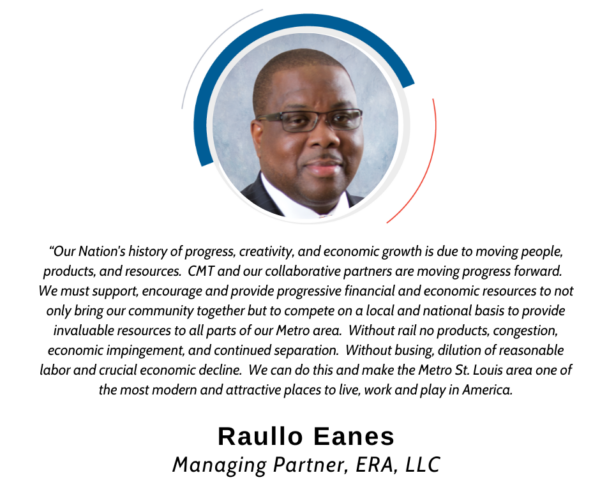 "I believe the CMT to be one of the most important keys to the region's success. Working to create safe transit opportunities for all and connecting people are essential elements to an overarching strategy that promotes economic growth throughout the region. CMT champions the connections that help our region's growth!" Allan Moore, Director Corporate Security and Crisis Management, Spire
"Supporting CMT is a no-brainer. Not only are we supporting the advocacy organiza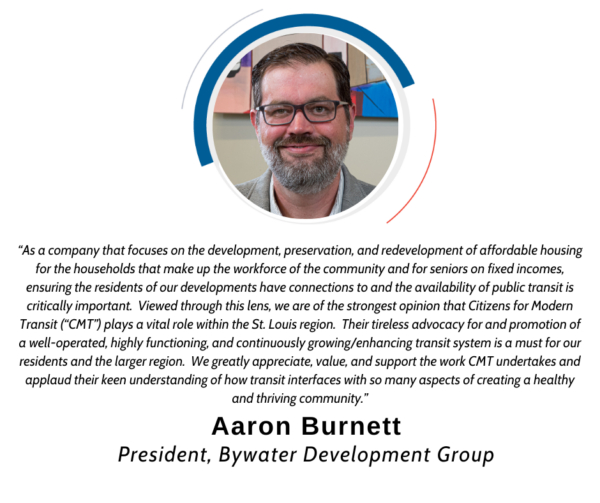 tion for public transit, our membership reflects the importance we place on having transportation options for people in the St. Louis region at all stages of their life." Sheila Holm, Community Outreach Director, AARP in St. Louis
"Citizens for Modern Transit is like a valuable sibling, who works with us and challenges us. They are a great champion and advocate for transit and a prime leader in making St. Louis a better place."  Taulby Roach, President & CEO, Bi-State Development