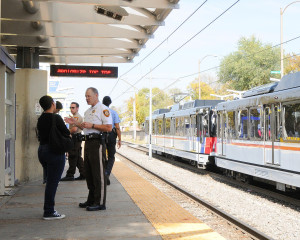 St. Louis County Executive Steve Stenger is urging Metro to accept a proposal to double the number of County Police officers assigned to the MetroLink system.
In January, the CMT Board of Directors passed a resolution calling for a doubling of the number of St. Louis County police officers assigned to the MetroLink system. In addition, the Board called on St. Louis County to potentially direct Proposition A funds as needed to provide for the increased resources on the system.
"Increasing the number of trained police officers on the public transit system sends a strong message to the community about the County's commitment to safety and security for transit users. Washington University is a staunch supporter of public transit, and the County's efforts to address safety concerns are most welcome," Rose Windmiller, Associate Vice Chancellor, Government & Community Relations, Washington University.
As the largest financial supporter of public transit in the region, St. Louis County has the opportunity to take the lead in helping to ensure a safe, reliable, affordable, and efficient public transportation system that can increase access to health care, education, and employment in our region; help tackle inequities addressed by the Ferguson Commission; and play a key role in expanding opportunity for all St. Louisans. Safety and security on platforms, stations, trains and buses must be a top priority, and without decisive action, the public's lack of confidence in the systems' safety and security will make people less likely to use the system and support public transit.
"Kudos to St. Louis County on their leadership on this issue and support of transit in this region. The doubling of County Police on the system will go a long way in ensuring the public's confidence in the safety and security of the current system and support for any expansion of the system in the future.  Transit serves as a critical component of the St. Louis region's transportation system, and as a region, we need to ensure the existing system is safe and secure for current and future riders," said Kimberly Cella, executive director of CMT.
St. Louis Post Dispatch article on the proposal.