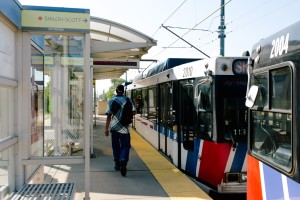 District underwrites extension of evening MetroLink service
The St. Clair County Transit District (SCCTD) will extend evening MetroLink service in response to current riders. MetroLink service will be extended to Shiloh-Scott Station in the evenings instead of truncating service at Fairview Heights. The expanded service will begin on June 23.
"We saw an opportunity where we knew the SCCTD could be of assistance to riders in our community. Many third shift employees were having problems reaching home with trains terminating at Fairview Heights. We knew it was important to meet the needs of our riders and extend service all the way to Shiloh-Scott in the evenings. While this may add expenses to our bottom line, maintaining and expanding ridership on the system is more important," said, Ken Sharkey, Managing Director of the St. Clair County Transit District.
St. Clair County Transit District covers the cost of transit service on the Illinois portion of the system through a contract with Metro Transit. This extension of service will add to expenses on an annual basis. SCCTD mission is to work with area partners and elected officials to ensure safe, reliable transportation access to work, education and healthcare. Details on the services are available at www.ssctd.org
Founded in 1981, St. Clair County Transit District oversees 11 MetroLink stations and 17 bus routes in St. Clair County, IL. If commuters have any questions about service, they can contact (618) 628-8090 between 8 a.m. and 4 p.m. Monday – Friday.