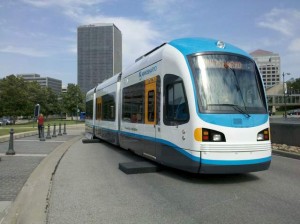 The Kansas City Streetcar is under construction, new development is going in along its path, and residents will soon be able to jump on board as it hits the tracks for service.  Citizens for Modern Transit (CMT) will host a sneak peek of the Kansas City Streetcar on Thursday, Jan. 22, 2015.
The panel discussion will give CMT members and friends to hear an update on the Kansas City Streetcar Phase I and plans for Phase II as well as the opportunity to hear from the Executive Director of the Kansas City Streetcar Authority, Tom Gerend.
The CMT Lecture series is an opportunity for local leaders, businesses, non-profits and citizens to discuss the latest in transit activities in the region, the importance of building around transit, and the need to make transit a top priority for the region.
The luncheon will be held from 11:30 to 1:00 p.m. on Jan. 22, 2014 in Downtown St. Louis.
As a part of your sponsorship, you will receive a listing on the CMT invitation, signage at the event, complimentary registrations depending on sponsorship level, and inclusion in the follow-up coverage of the event in CMT newsletters, CMT website, press releases and social media. Sponsorship levels are as follows:

Invitations will be mailed in late-December. Please send your check to CMT, 911 Washington, Ste. 200, St. Louis, MO 63101 prior to November 20, 2014 or email kcella@cmt-stl.org to ensure that your company name is included on the event materials. Remember all sponsorships and gifts to CMT are tax deductible.