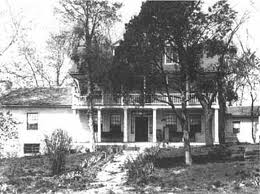 Ten Toes Participants are invited to join CMT for a special guided tour of the Ulysses S. Grant Historic Site this Thursday, September 19 at 9 am.  Walkers will meet at the Shrewsbury MetroLink station by the ticket machines.  They will then take a MetroBus to Grant Road where a Park Ranger will meet the group and guide them along the 1.5 mile trail to the park.  Once at the park walkers will then have the opportunity to watch a 16-minute introductory film, A Place Called White Haven, shown in the Visitor Center theater; walk the historic trace and learn about the people and property in the 19th century; and spend time in the interpretive museum, located in the historic stable. The exhibits, An Intricate Tapestry: The Lives of Ulysses and Julia Grant place the Grants within the context of 19th century American history, and reflect the important role Ulysses Grant played in the nation's past.
This walk is a special collaboration between the National Park Service and CMT.
THIS IS AN AGGRESSIVE WALKING TOUR, APPROXIMATELY 5 MILES IN LENGTH.  PLEASE PLAN APPROPRIATELY.
The full walk details are below:
The Ulysses S. Grant National Historic Site, RSVP required
When:  Thursday, September 19, 2013
Where to meet CMT: The Shrewsbury MetroLink Station, 9:00 am
Destination: 7400 Grant Road; St. Louis, MO 63123
Length of Walk: AGGRESSIVE WALKING TOUR – Approximately 5 miles total.  1.5 miles to and from the site, 1.5 hours on site.
If you have not yet registered for the Fall 2013 session, it's not too late!  Register online here – http://tentoes.cmt-stl.org/TheTenToesExpressProgramRegistration/tabid/55/Default.aspx.  Or call CMT to inquire about registering – 314-231-7272.