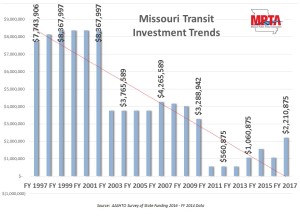 One of Citizens for Modern Transit's goals for FY17 is further the discussion on state funding for transit – both capital and operating.  We know  public transit serves customers in every county – rural and urban – and is critical to meeting the transportation needs of Missouri's citizens.  However, historically, Missouri has ranked near the bottom nationally with regards to funding for public transit. The graphs demonstrates historically the last few years of support for transit.
Good public transit infrastructure improves access to jobs, healthcare and educational opportunities; brings greater economic development; and promotes reinvestment in underserved parts of our community while binding our communities together.  Discussions and studies are now underway in the St. Louis region on MetroLink expansion.   Over the next 18 months as these studies move forward, the region must look at possible funding packages to move any expansion forward and one element needs to be state funding.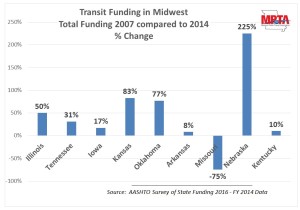 When looking at investing in public transit in the local communities, there is a hole with regards to state funding for capital and operating.   Last year, CMT supported the passage of the Fixing America's Surface Transportation (FAST) Act which was passed into law in December 2015. This was the first long-term federal transportation bill since 2005.  There were no cuts to overall funding levels from the prior bill, MAP-21, including funding for public transportation. The bill authorized $230 billion for highways, $61 billion for public transportation, $10 billion for passenger rail and $5 billion for highway safety programs.
However, the funds available are significantly lower than the needs demonstrated through the grantee application process. In addition, the region must have matching funds to draw down any federal funding for capital projects.
This makes a state funding program for transit operations and capital even more critical moving forward.
| | | | |
| --- | --- | --- | --- |
| Transit Funding in the Midwest | | | |
| | | | |
| State | %  Change | 2007 | 2014 |
| Illinois | 50% |  $        489,200,000 |  $       731,378,000 |
| Tennessee | 31% |  $          38,050,000 |  $         49,889,987 |
| Iowa | 17% |  $          10,842,863 |  $         12,723,031 |
| Kansas | 83% |  $             6,000,000 |  $         11,000,000 |
| Oklahoma | 77% |  $             3,250,000 |  $           5,750,000 |
| Arkansas | 8% |  $             3,277,637 |  $           3,550,045 |
| Missouri | -75% |  $             4,265,589 |  $           1,060,875 |
| Nebraska | 225% |  $             1,500,000 |  $           4,872,884 |
| Kentucky | 10% |  $             1,700,000 |  $           1,867,907 |