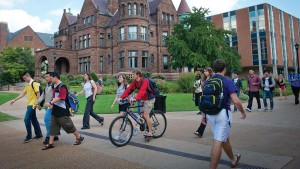 News from SLU website:
Saint Louis University began offering free Metro passes to residents living in SLU housing this semester.
The new initiative is the result of ongoing discussion, input and planning by SLU's transportation services, Student Government Association and Metro. A pilot program with freshman students during the Spring 2016 semester provided some new insights.
Designed to provide easy transportation options for students, particularly those new to St. Louis, the Metro U-Pass offers easy access from campus to the incredible number of social, volunteer, entertainment, recreation, cultural and shopping opportunities available in the Gateway city. The Metro U-Pass can be used for both MetroLink and MetroBus.
The Grand Metro station is within walking distance of campus. From 7 a.m. to 7 p.m. (M-F), SLU provides a shuttle service that stops at the Grand Metro Station while traveling between the north and south campuses.
The shuttle does not run a scheduled route during summer, fall, winter and spring breaks, however SLURide transportation is available by calling 977-RIDE.
For more information about the Metro U-Pass, contact Parking and Card Services at parking@slu.edu.