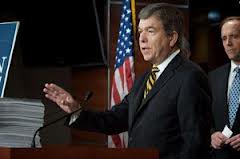 On January 17, 2014 MO Senator Roy Blunt and Senator Michael Bennet from Colorado introduced a bipartisan piece of legislation called the "Partnership to Build America Act," to help improve the nation's  capability to build and repair roads, bridges, highways, ports, schools, and other infrastructure projects.
This legislation would establish a $50 billion "American Infrastructure Fund" to help finance top-priority infrastructure projects across the country.  Potentially, the fund could also support billions in loan guarantees and financing authority for state and local governments. According to Senator Blunt's staffers, transit projects would be eligible.
The Senators tout this bill as a way to jump-start job creation, to provide bond guarantees and loans to State and local governments, improve the nation's infrastructure, and make states in the US more competitive in the global economy.
Following the American Society of Civil Engineers D+ grade of the nation's infrastructure, it's timely that Congress is working to address these pressing problems.
Read the bill here.