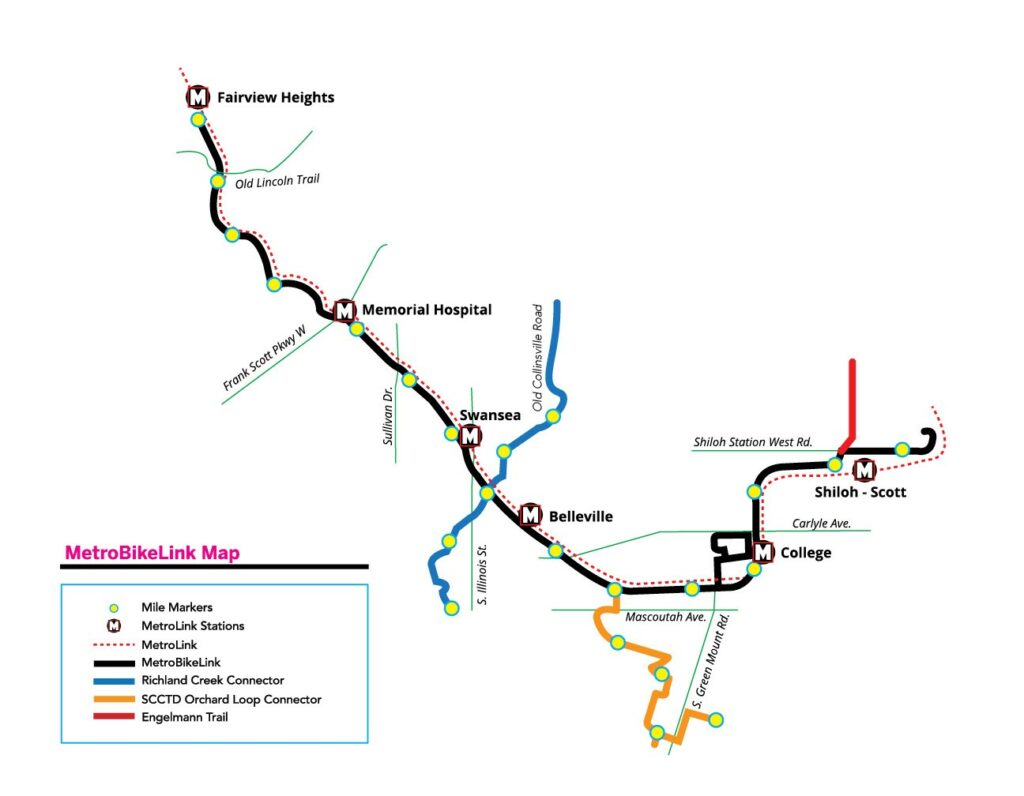 Bike System Boasts 14 Continuous Miles of Trails in Southwestern Illinois
 The week of May 16 to 20, 2022, is National Bike to Work Week and St. Clair County Transit District (SCCTC) is reminding area residents that bicycling to work has never been easier thanks to the MetroBikeLink. This evolving system features 14 continuous miles of paved trails through Southwestern Illinois that connects to six Metro Transit Centers in four different communities. This vital link allows residents to utilize the MetroLink and MetroBus to gain access to thousands of employers throughout the St. Louis Metropolitan region. All Metro buses and trains are equipped with bike racks.
"The MetroBikeLink is a fantastic community amenity highly utilized on a daily basis," commented Herb Simmons, Chair of St. Clair County Transit District's Board of Trustees. "Those who haven't utilized it as part of their daily work commute are encouraged to give it a try during National Bike to Work Week."
The first segment of the MetroBikeLink System opened in 2002 and was comprised of a four-mile trail, running from Southwestern Illinois College to the Swansea MetroLink Station. Since then, the system has expanded to include the Memorial, Fairview Heights and Shiloh Scott segments; Orchard Loop Trail Phases I and II; the Englemann Park Connector and the Old Collinsville Road Trail (currently under construction)  – all of which connect back to the original trail. Currently, the MetroBikeLink System runs from the Shiloh-Scott Metro Station to the Fairview Heights Metro Station, providing access to the Fairview Heights, Memorial Hospital, Swansea, Belleville, College and Shiloh-Scott Transit Centers in and four different communities for thousands of area residents.