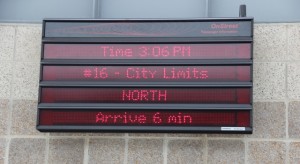 LED Boards have been installed at the Shrewsbury and Central West End Transit Centers to give passengers live information about bus arrival times.  The real time information is made possible by GPS devices that are now intstalled on MetroBuses.  The GPS devices were installed earlier in the year and have helped provide Metro's online Trip Planner with real time information but the information will now be available on these LED Boards at the stations as well.
The Boards will tell passengers the time, bus route numbers and direction, the next scheduled arrival time for each bus and estimated real time arrivals.  Times will only be shown within 10 minutes of the bus' actual arrival.
A non-active LED board has been installed at North Hanley Station as well, but it is not yet active.  Metro has plans to install boards at additional locations throughout the region, but the rollout of the boards has not yet been announced.  For those at Shrewsbury and the CWE, however, enjoy!  The worst part of waiting is not knowing how long you'll have to wait.  These boards will significantly improve the user experience.