Metropolitan Atlanta Rapid Transit Authority (MARTA) is creating new spaces where surface parking lots once neighbored transit hubs.  The underutilized parking lots are becoming centers of retail, residential, and office center, all while increasing ridership among Atlanta residents.  Several of these highly anticipated and transformative projects are quickly coming to fruition.
The following is a list of projects and their estimated completions dates: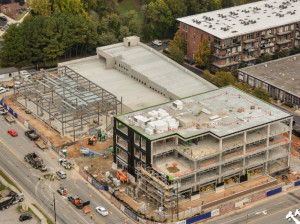 Chamblee Station
Gold Line
70,000-square-foot office building and 10,000 square feet of retail space on a two-acre site across from the MARTA station. Additionally, a new greenspace is also in the works.
Completion is expected this spring.
Avondale Station
Blue Line
500 residential units adjacent to the station. The project includes 377 apartments, 92 affordable senior housing units, 34 condos, and more than 40,000 square feet of retail space with a central plaza.
The project's first phase should be done by year's end, with future phases pending.
Edgewood/Candler Park Station
Blue and Green Lines
200 residential units, commercial space, and a performing arts venue as part of the first phase of development. The current project will feature 10 percent affordable housing, while the next phase will reserve 20 percent.
The first phase is almost finished.
Arts Center Station
Red and Gold Lines
Proposed mega development to include multiple towers, which would house offices, residences, and retail spaces above the transit station in northern Midtown.
Environmental assessments are underway, with stakeholder meetings planned for this year.
King Memorial Station
Blue and Green Lines
Slated to be the first modular multifamily housing development in the city, including 300 apartments—25 percent of them designated as affordable—and 10,000 square feet of retail space.
A timeline for construction has yet to be determined.
Lindbergh Center Station
Red and Gold Lines
Preliminary planning is underway to continue development of more than 200 residential units, a 143-room hotel, and 18,000 square feet of retail space to lots fronting Piedmont Road.
Negotiations with the developer are underway, but a timeline for the project hasn't been determined.