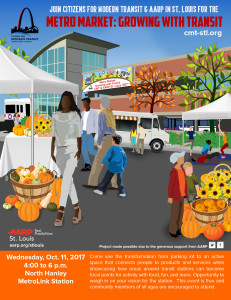 Citizens for Modern Transit and AARP in St. Louis  will host a Metro Market: Growing with Transit on Wednesday, Oct. 11 from 4:00 to 6 p.m. at the North Hanley MetroLink Station.
Come see the transformation from parking lot to an active space that connects people to products and services while showcasing how areas around transit stations can become focal points for activity with food, fun, and more. There will be an opportunity to weigh in on your vision for the station.  This event is free and community members of all ages are encouraged to attend.
"Last year, CMT, AARP and community stakeholders completed walk audits of three key MetroLink stations and identified short and long-term recommendations for improving functionality and making them safer and more vibrant destinations," commented Kimberly Cella, executive director of Citizens for Modern Transit. "An action plan is being executed and a series of improvements have been completed and others are currently underway. Our next step is to help residents, stakeholder and elected officials a peek at what is possible around transit."
"We are bringing the concept of space activation to life so people of all ages are better able to visualize the potential that exists to create safer, more livable communities around transit stations," added Sheila Holm, community outreach director for AARP St. Louis. "We are also hoping it will prompt those in attendance to share their thoughts on the experience and the types of enhancements they would like to see."
About Citizens for Modern Transit:
Citizens for Modern Transit is a nonprofit, member supported organization that leads efforts for an integrated, affordable, and convenient public transportation system with light rail expansion as the critical component that will drive economic growth to improve quality of life in the St. Louis region.
About AARP in St. Louis:
AARP in St. Louis is a nonprofit, nonpartisan organization, with a membership of more than 300,000 members, that helps people turn their goals and dreams into real possibilities, strengthens communities and fights for the issues that matter most to families. We advocate for individuals in the marketplace by selecting products and services of high quality and value. A trusted source for lifestyle tips, news and educational information, AARP produces AARP The Magazine; AARP Bulletin; www.aarp.org; AARP TV & Radio; AARP Books; and AARP en Español, a Spanish-language website. AARP does not endorse candidates for public office or make contributions to political campaigns or candidates. Learn more at www.aarp.org/stlouis.