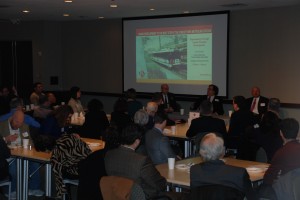 On Tuesday, February 25th CMT welcomed the Transit Oriented Development 'Deal' Guy, Francis DeCoste, to St. Louis.  Before a crowd of more than 80 St. Louis civic and community leaders, Mr. DeCoste discussed his assessment of the development possibilities and challenges around the Forest Park MetroLink Station.
"Even though MetroLink opened in St. Louis in 1993, building around our public transit infrastructure has not gone as far as the region could hope.  We looked at the Forest Park MetroLink Station because it will be truly multi-modal in the near future– with the MetroLink red and blue lines providing service, several MetroBus routes serving the station, the future Loop Trolley, Great Rivers Greenway trail and more all providing access. With these realities in mind,  we were happy to see Fran examine the possibilities for development and possible financing incentives for the area," said Kim Cella, CMT Executive Director.
Mr. DeCoste has over 30 years of experience in the real estate development industry. In his career, he has successfully negotiated and conducted due diligence  for site acquisitions,  performed economic feasibility analysis, coordinated site and building designs, presented to the public proposals for the  permitting  and approval of projects, obtained  both institutional and private financing,  and managed the sales and construction of retail, office, multi-family rental, and luxury condominium projects throughout the country.  As Chief Operating Officer with Transit Reality Associates, Mr. DeCoste is responsible for directing the daily operations of TRA and overseeing all staff as well as focusing on transit oriented development projects in the Boston and Chicago markets.
Enjoy Mr. DeCoste's presentation here, and plan to join us for CMT's presentation to the community on the feasibility study for a possible mid-town MetroLink Station at Cortex on March 27 at 7:30 am.  Purchase tickets here.