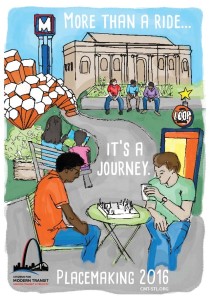 Taking the MetroBus or MetroLink in St. Louis? Is your bus stop or MetroLink station located in a PLACE where you could live, work and play?   Your transit station could be a place to meet up with neighbors and friends for coffee and a snack, a convenient place to grab groceries on your way home, a peaceful garden to read a book in, an active and engaging corridor that connects to your neighborhood.
Help create places you want to be along your commute on transit!  Join CMT & AARP in St. Louis in 2016 as they take a closer look at how to make transit in our community a public space that promotes health, opportunity, and well-being for transit users, and for all who live, work and play around transit stations.  
Through a series of Walk Audits this fall led by Arcturis, we will spotlight the North Hanley, Forest Park and Delmar Stations – looking at ways to activate the space to create safer, more vibrant areas.   These will be half day audits.  Times will vary, but each audit will run approximately 3-4 hours starting in the morning at each station and then convening at a secondary location for follow up discussion.  Detailed information to be released shortly.


Here is your opportunity to get involved  – join in one or all of the walk audits or email your thoughts today.
Schedule of Walk Audits – 9 a.m. to 11:30 a.m.:
August 24, 2016  North Hanley Station Walk Audit, SOLD OUT

RESCHEDULED September 30, 2016  Forest Park Station Audit, 9 a.m. Forest Park MetroLink Station, 10:30 Follow Up Conversation at Missouri History Museum, AT&T Room

October 14, 2016  Delmar Station Walk Audit, 9 a.m. Delmar MetroLink Station
Register today for an audit at info@cmt-stl.org or email us with your thoughts.