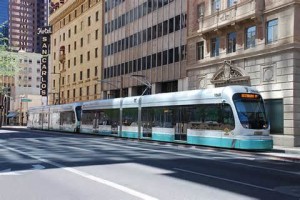 At a recent AARP Livable Communities Conference in Chicago, Phoenix Mayor Greg Stanton credited their light rail system as the catalyst for more than $8 billion in development within a half mile of the system.  The regional transit agency, Valley Metro, confirms that since the opening of the line, over $8 billion dollars in development has been brought to the area. This amount is only accounting for projects that are located within a half mile of light rail stations and have been completed. Accounting for planned projects near light rail, there is an additional $346 million in development coming to the area.
The light rail line currently covers 20 miles and runs through Phoenix, Tempe, and Mesa, Arizona. 204 projects in total have been developed near light rail and include over 15,000 residential units and nearly 3,000 hotel rooms. There has also been increased interest in office space as well, according to the Community and Economic Development Director for Phoenix, Chris Mackay.
Light rail is adding to the success and sustainability of the area by expanding transportation choices and attracting those who want to live, work, and play in the transit corridor. Residents and visitors are now able to get to work, school, and events around town much easier. As of April 2016, Valley Metro reports the average number of weekday riders at 54,000.
In August 2015, residents passed Proposition 104 which will allow the light rail line to add up to 42 more miles by implementing a 0.7 sales tax that began in January of 2016 and will continue for 35 years. This increased sales tax will help pay for new light rail routes, an expanded bus service, street repavement, and transit infrastructure improvements. Federal funding and fares will also help cover the costs of these improvements.