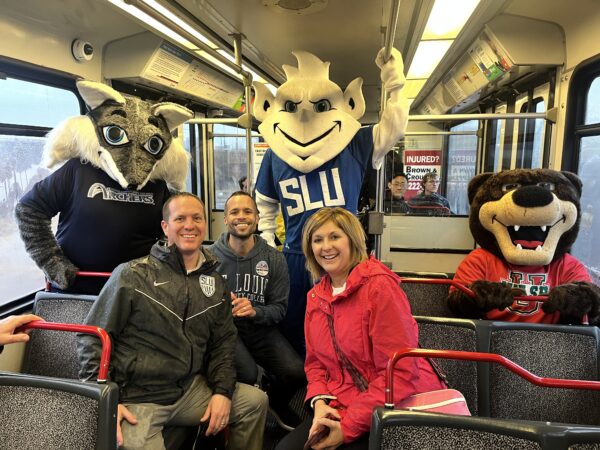 Effort Kicked Off with Mascot Meetup on MetroLink
 To help underscore the benefits of public transit and encourage consistent use among the St. Louis area's college students, faculty and staff, Citizens for Modern Transit, Metro Transit and St. Clair County Transit District – in partnership with St. Louis Community College, Saint Louis University, Southwestern Illinois College, University of Missouri–St. Louis and Washington University in St. Louis – today launched the "College Transit Challenge" Initiative. From Friday, March 3, to Friday, March 10, those affiliated with the respective schools are encouraged to use their Metro U-Pass to take transit as often as they can. Ridership will be tracked via mobile texting. The school with the most ridership will be awarded bragging rights, and all challenge participants will be entered to win a selection of prizes.
The challenge kicked off at 9 a.m. today with a Mascot Meetup at the Cortex MetroLink Station. Representatives for the transit organizations, along with college and university representatives and students, shared remarks on the benefits of transit access before they and mascots Archie, the Billiken, Kashmir the Snow Leopard, Louie the Triton and the Bear took MetroLink from Cortex to Union Station to mark the official start of the weeklong campaign.
"Public transit access – via MetroLink and MetroBus – is readily available at these five colleges and universities, offering a safe and convenient means to get to and from campus, work, doctor appointments, grocery stores, area attractions, nightlife or wherever else students and eligible staff need or want to go," commented Kimberly Cella, executive director of Citizens for Modern Transit. "There are many benefits associated with taking transit, and the system is easy to use. Plus, the Metro U-Pass makes it super affordable because it provides unlimited rides on MetroBus and MetroLink during the school year for nearly 38,000 eligible students, faculty and staff."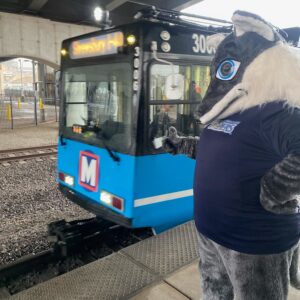 Chief Operating Officer at Metro Transit Chuck Stewart added, "Through our partnerships with area colleges and universities, we are excited to provide students with this invaluable resource. We encourage them to take full advantage of the Metro U-Pass, not just for their important trips to class and education, but also to connect with everything the St. Louis region has to offer."
Students, faculty and staff of the participating colleges and universities who are interested in participating in the challenge must first register by visiting www.CollegeTransitChallenge.com and entering their name, school affiliation and cell phone number. They will then receive a text message to confirm campaign registration. During the weeklong challenge period, participants will receive a daily text message asking them how many times they rode transit, which mode was utilized and to where.
Usage will also be tracked via social media. All participants will be included in a daily drawing for prizes, $50 gift cards, transit passes, "College Transit Challenge" schwag and much more.
"Public transit plays a vital role in making education more accessible for students, especially as they face growing demands on their schedules and pocketbooks," said D'Andre Braddix, Executive Director of Diversity, Equity and Inclusion at St. Louis Community College.
Saint Louis University student Quique Riojas added "I don't have a car and like many college students, I have come to a different city without any means of getting around other than my own two feet. Thanks to public transit, I've been able to explore the city and fall in love with it. I can build roots in this city, I can buy at local shops, meet local people and enjoy the local culture without worrying about traffic, gas, parking or insurance. Students have an opportunity to show support for this wonderful service and I encourage them to make a special effort this month to use the system, show people how useful it is, and how important it is that we support it."
As part of the challenge, members of student organizations affiliated with the partnering schools are encouraged to attend a mid-week event on Thursday, March 9, from 2 to 5 p.m. at Sugarfire Smoke House, which is adjacent to the Convention Center MetroLink Station in downtown St. Louis. The group with the most attendance will receive $250 to support its efforts.
Students who have not obtained their Metro U-Pass should check with their respective university or college to find out where they are distributed on campus. Additional information about the campaign, instructions on how to register and specifics regarding the Metro U-Pass Programs for the respective schools can be found at www.CollegeTransitChallenge.com.