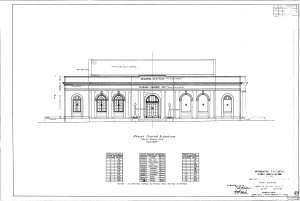 As you know, CMT and the Skinker DeBaliviere Community Council are holding a Public Visioning session for the historic Wabash Station on Saturday, June 7 from 8:30 am – 12:00.  RSVP here if you can join us!  AND we hope you could help!
We are seeking old photographs from the station when it was in use.  We're particularly interested in seeing what the inside of the station looked like.
The photos will be posted on the Wabash Station web page and used in any follow up efforts to redevelop the station.
Please send your photos to CMT at info@cmt-stl.org.  You can also mail copies to 911 Washington Ave., Suite 200; St. Louis, MO, 63101.
And be sure to weigh in on what you'd like to see at the station if you aren't able to join us on June 7.  Submit your ideas here.
Thanks again to RiseSTL for sponsoring this Visioning Session.